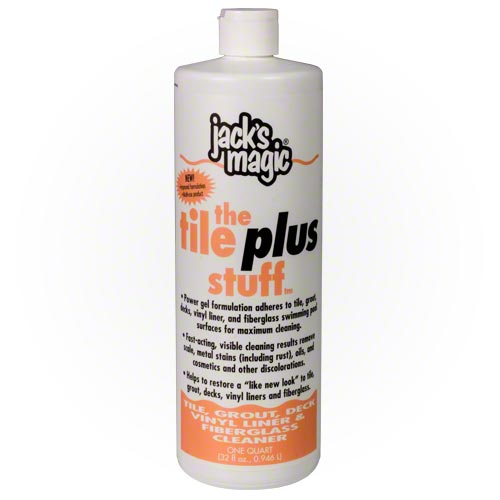 Jacks Magic The Tile Plus Stuff
This item is IN STOCK
This item is TEMPORARILY OUT OF STOCK
Usually Ships Within 1 Business Day
Expedited Shipping NOT Available
Not Available Outside Contiguous US
Item Details
Jacks Magic The Tile Plus Stuff
The Tile Plus Stuff has been specially developed to keep your pool tile, grout, deck, vinyl liner, and fiberglass looking their stain-free best. Its fast-acting, multi-acid formulation starts working on contact, providing immediate visible cleaning action.
The Tile Plus Stuff has a gel - like properties that adhere to the surface for maximum cleaning of scale, metal stain (including rust), oils, cosmetics, and other discolorations. This product works great on concrete, pavers, or wood decking. It will not etch tile, grout, pavers, slate, or concrete when used as directed.
Features:
Tile, Grout, Deck, Vinyl Liner, and Fiberglass Cleaner
Fast acting formula that starts to work on contact
Multi-acid formula provides immediate visible cleaning action
Gel like formula adheres to the surface for improved cleaning
Will not damage surfaces
32 Ounce bottle with squirt top
Directions for use:
Wet surface to be treated with water prior to application of product
Apply product directly to areas with stain/scale or discoloration
Allow product to react with stained area for 1 to 2 minutes, then vigorously scrub stain area with appropriate scrub brush. Do not leave on tile, grout, concrete, pavers, wood, vinyl, or fiberglass surface for more than two minutes.
Rinse product from stained area.
For particularly stubborn stains and/or discoloration, a second application may be necessary.
Jacks Magic JMTILE032