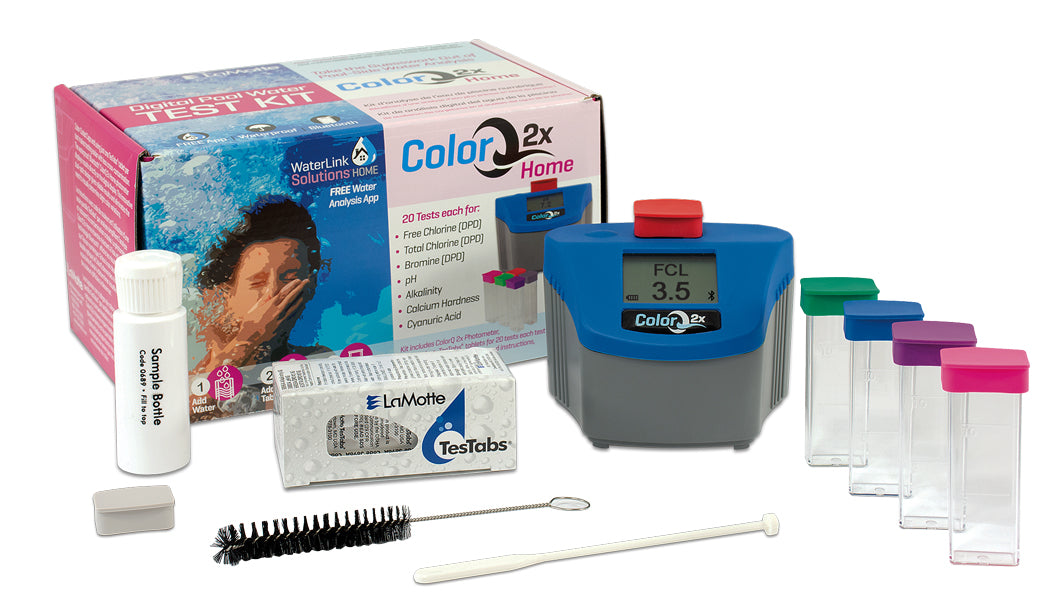 Lamotte ColorQ 2x Home Pool 7
This item is IN STOCK
This item is TEMPORARILY OUT OF STOCK
Usually Ships Within 1 Business Day
Expedited Shipping Available
Item Details
Lamotte ColorQ 2x Home Pool 7
The waterproof, Bluetooth ColorQ 2x Home Pool 7 photometer directly measures seven pool and spa tests which includes Free Chlorine, Total Chlorine, Bromine, pH, Alkalinity, Calcium Hardness and Cyanuric Acid.

Featuring an innovative dual-optic design with a wider pathlength - the ColorQ 2x provides increased accuracy. The photometer is easy to use and includes 20 TesTabs tablet reagents per test factor packaged in blister-style foil. The user dispenses each tablet into a ColorQ 2x test tube by pressing the tablet through the foil. This eliminates the need to manually tear open a foil packet and carefully dispense the
tablet.
The user-friendly photometer, testing reagents, and diagrammed multilingual instructions (English, Spanish, French) come conveniently packaged.
Features:
Home Multi-Test Photometer Kit
Takes the guesswork out of pool-side water analysis
Dual optic design with wider path-length than previous models
Eliminates the need to visually determine slight color variations
Waterproof housing
5 Minute auto-off function protects batter life
Transfer results via Bluetooth
Digital display
Accurate results
Easy to use
Can be used on both pools and spas
Test Capabilities:
Free Chlorine | 0-10 ppm
Total Chlorine | 0-10

ppm

Bromine | 0-22

ppm

pH | 6.5-8.5
Alkalinity | 0-250 ppm
Hardness | 0-400 ppm
Cyanuric Acid | 0-125
Kit Includes:
ColorQ 2x Photometer

Photo-diagrammatic instructions (English, Spanish and French)

Reagents
Note:
Each reagent contains enough solution for 144 tests

Contains 100 TesTab tablets for each test
Lamotte 2084