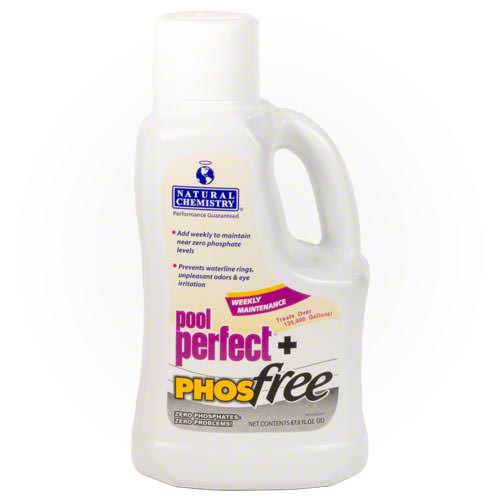 Natural Chemistry Pool Perfect + PHOSfree 67.6 Ounce
This item is IN STOCK
This item is TEMPORARILY OUT OF STOCK
Usually Ships Within 1 Business Day
Expedited Shipping Available
Item Details
Natural Chemistry Pool Perfect + PHOSfree
This unique formula combines the cleaning and clarify capabilities of Pool Perfect and the phosphate removing power of PHOSfree for an easy to use system that will help you maintain clean and clear all season long.
Pool Perfect uses powerful enzymes to reduce non-living organic buildup that can cause waterline rings, surface oils, clogged filters, unpleasant odors and cloudy water. The SMARTZyme Technology is highly effective and gives the water a soft and silky feel.


PhOSfree reduces phosphate levels in your swimming pool quickly without causing the pool water to become cloudy. This special formula use lanthanum (rare earth) compounds that when added to the skimmer, provides a thin coating of PHOSfree on the filter media. Phosphates are then reduced as the water flows through the filter.

Pool Perfect + PHOSfree Features:
Naturally cleans pool water
Reduces non-living organic buidup such as oils, lotions, cosmetics and other waste
Improves water clarity and provides a soft and silky feel
Reduces unpleasant odors including chemical odors
Compatible with all filter types and pool surfaces
Reduces waterline rings, surface oils, clogged filters and cloudy water
Effectively reduces phosphates in swimming pool water
Removes phosphates in the filter
Lower phosphates reduces pool maintenance and chemical usage
67.6 Ounce Bottle (2 Liter)
Dosage Amount:

Each week, add 1 capful per 8,000 gallons of water directly to the pool.
Natural Chemistry 05235