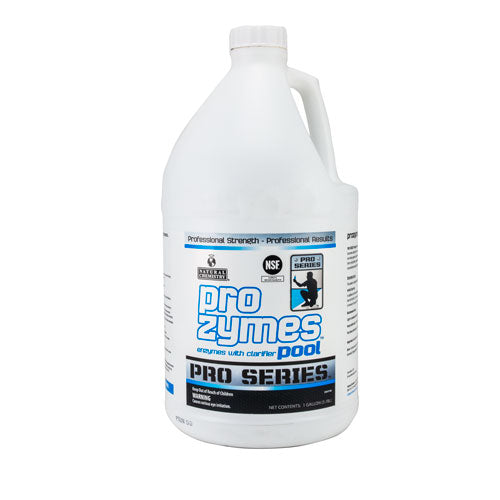 Natural Chemistry ProZymes Pool - Gallon
This item is IN STOCK
This item is TEMPORARILY OUT OF STOCK
Expedited Shipping NOT Available
Not Available Outside Contiguous US
Item Details
Natural Chemistry ProZymes Pool
Pro Series ProZymes Pool reduces the buildup of non-living organic contamination. Sunscreens, body oils, lotions, cosmetics along with other contaminants make up the non-living organic load that contribute to problematic symptoms such as waterline rings, short cycling filters, unpleasant odors, pool water clarity and peak load cloudiness. This concentrated naturally based enzyme formula works with all sanitizing systems.
Features:
Enzymes with pool clarifier
Professional strength
Reducesbuild-up of sunscreens, body oils, lotions, cosmetics and more
Reduces unpleasant odors
Improves water clarity
Reduces scrubbing and brushing of tile line
Reduces overall pool maintenance
Size:
- Dosage Amounts -
Initial Start-Up:

In addition to the maintenance dose, add 1 ounce for every 1,000 gallon all at once, every seven days for the first 2 to 5 weeks, until the desired results are achieved. This additional amount is necessary to speed up the remove of the pre-existing non-living organic load.

Maintenance Dose:

Light to medium bather load: Add 1 Ounce for every 3000 gallons each week.
Heavy bather load: Add 1 ounce for every 2000 gallons each week (most common pool dosage rate).
Very heavy bather load: Add 1 ounce for every 1,000 gallon each week.

Read entire label and use strictly in accordancewith precautionary statements and directions.
NC Brands 20301