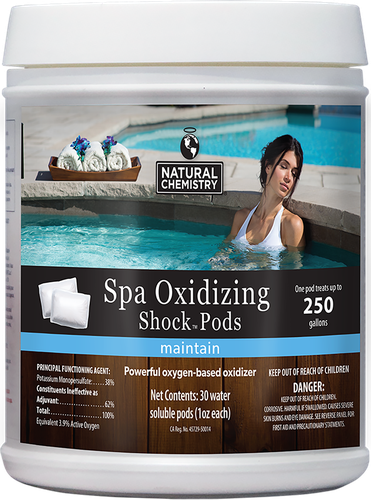 Natural Chemistry Spa Oxidizing Shock Pods
This item is IN STOCK
This item is TEMPORARILY OUT OF STOCK
Expedited Shipping NOT Available
Not Available Outside Contiguous US
Item Details
Natural Chemistry Spa Oxidizing Shock Pods
These easy-to-handle, pre-measured, quick dissolving pods use active oxygen, not chlorine, to remove odors including the smell of chlorine. Eliminates organic contaminants and residues like body lotions, cosmetics, hair products, oils and perspiration.
Features:
Powerful oxygen-based oxidizer for spas and hot tubs

Each pod can treat spas up to 250 gallons of water
Eliminates organic wastes to improve water clarity and reduce chemical usage
Reduces unpleasant odors from spa water
Water soluble pods that are safe to use and handle with your dry hands
Each pod contains 1 ounces of spa shock
Size:
(30) Shock Pods that are 1 ounce each
Dosage:
Use (1) pod per 250 gallons of water, before OR after each use, at least once per week.
Directions for use:
Before using your spa - Toss one pod into the spa with circulation jets and pump running. Wait at least 15 minutes before entering the spa water.

After using your spa - Toss one pod per 250 of spa water into the spa with the circulation jets and pump running. Leave the cover off for at least 1 hour and keep the pump running for at least 2 hours.
Natural Chemistry 14306NCM