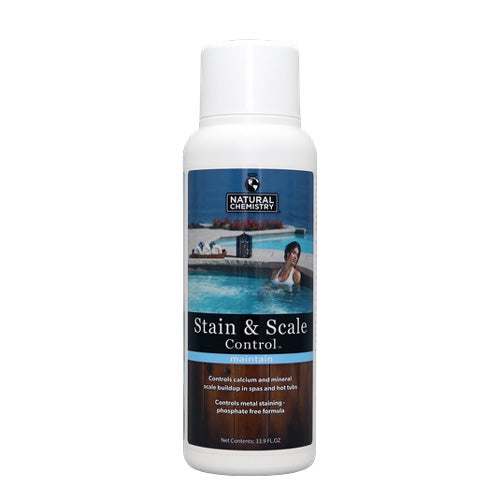 Natural Chemistry Spa Stain and Scale - 33.9 Oz.
This item is IN STOCK
This item is TEMPORARILY OUT OF STOCK
Usually Ships Within 1 Business Day
Expedited Shipping Available
Item Details
Natural Chemistry Spa Stain and Scale
Stain and Scale helps prevent mineral and calcium scale buildup and staining caused excessive metals in the water. Scale buildup can damage spa equipment such as pumps, heaters, salt generators, jets and more.
It works by keeping calcium and other metals in solution so they are unable to form scale or stains on the hot tub finish. Like most stain and scale preventer, it does not physically remove the calcium or other metals from the water and therefore will not affect readings on water test results.
Spa Stain & Scale Features:
Prevents scale buildup caused by calcium and minerals in the water
Controls staining caused by metals in the water such as iron, copper, and other minerals
Phosphate free formula
Can be used with all spa surfaces
Can be used with most spa sanitizing systems (excludes biguanides)
33.9 Ounces
Dosage Amounts:
Initial Treatment - Add 8 ounces per 200 gallons of water directly to the hot tub water
Weekly Maintenance - Add 1 ounce per 200 gallons directly to the hot tub water