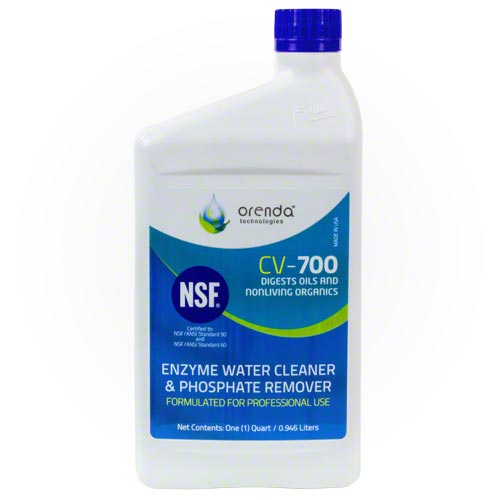 Orenda CV-700 Enzyme Cleaner and Phosphate Remover - 32 Ounces
This item is IN STOCK
This item is TEMPORARILY OUT OF STOCK
Usually Ships Within 1 Business Day
Expedited Shipping Available
Item Details
Orenda CV-700 Enzyme Cleaner and Phosphate Remover
CV-700 removes organic wastes and phosphates from swimming pool water. It effectively catalyzes the bio-oxidation of organic contaminants and removes ortho-phosphates commonly found in pools, spas and other recreational water systems.
The unique, stabilized, pre-formed enzyme system with phosphate remover will help maintain crystal clear water
CV-700 Features:
Enzyme clarifier and phosphate remover for pools
Eliminates organic waste
Removes phosphates
Helps maintain clean and clear water
Stabilized liquid pre-formed enzymes
NSF / ANSI standard 50 and NSF / ANSI 60 Certified
Made in the USA
Size:
Dosage Amounts:
Initial Dose - Add 32 ounces per 10,000 gallons of water.
Maintenance Dose - Add 5 ounces per 10,000 gallons of water weekly.
Orenda ORE-50-220