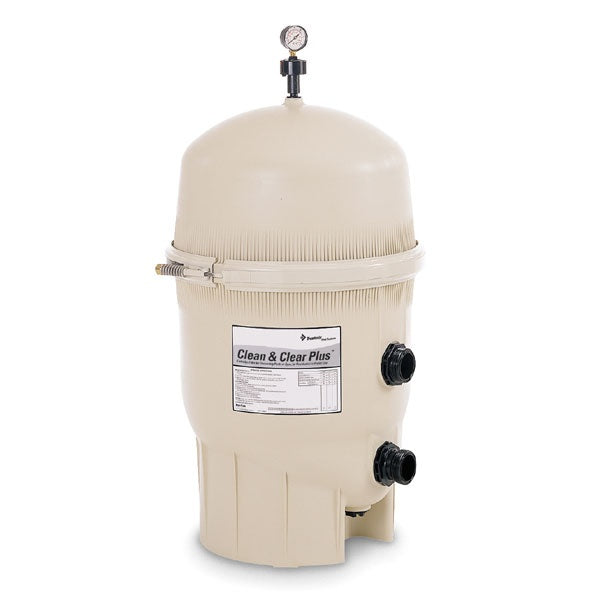 Pentair Clean and Clear Plus 320 Cartridge Filter EC-160340
This item is IN STOCK
This item is TEMPORARILY OUT OF STOCK
Usually Ships Within 1 Business Day
Expedited Shipping NOT Available
Not Available Outside Contiguous US
Item Details
Pentair Clean and Clear Plus Cartridge Filter EC-160340
Pentair Clean and Clear Plus cartridge filter combines top-end filter performance with low maintenance. This dependable design uses special filter elements to strip tiny particles from your pool water... particles as small as 30 microns (an average grain of beach sand is 1,000 microns!). Our four-cartridge design provides maximum filter surface area to capture more dirt and extends time between cleaning. And cleaning is a snap. Open the top, remove the cartridges, hose them off, and Clean & Clear Plus is ready to go again.
Pentair has maximized cartridge surface consistency to block and trap the maximum amount of solids, plus we use the most durable materials to extend cartridge life. Clean & Clear Plus delivers commercial-grade performance that keeps pools clean and sparkling, day in and day out.
Clean and Clear Plus filters contain four polyester cartridges that hold enormous amounts of dirt, yet are easier to clean. The fiberglass reinforced tank halves are secured with an innovative clamp ring - just loosen the ring and remove the top half for easy cartridge access and rinsing. Filter maintenance doesn't get any easier.
Clean and Clear Plus Features:
2" plumbing for maximum flow.
320 Square Foot Effective Filtration Area
120 Gallons Per Minute Flow Rate
Large filter area for increased dirt capacity
1-1/2", 100% drain clean-out port
Continuous High Flow - internal air relief
Base and plumbing kits now available
Injection molded tank
Balanced hydraulic flow
Tension Control clamp
100% factory tested
Black bulkhead unions
High Flow manual air relief valve
Four-cartridge design traps more dirt and extends time between cleanings.
Cartridges are easy to remove and rinse.
Clamp ring allows easy access to cartridges and internal parts to speed service routines.
1-1/2" drain is easy to access and located to ensure complete draining during winterization.
Fiberglass-reinforced polypropylene tank is strong and corrosion resistant for extra long life.
Continuous internal air bleed helps prevent air build-up to keep the filter operating at peak performance.
Single-piece base and body for strength, stability and years of dependable service.
One-year Manufacturers limited warranty.
NSF listed
Dimensions:
21-1/2" Wide X 43" Height
Pentair EC-160340