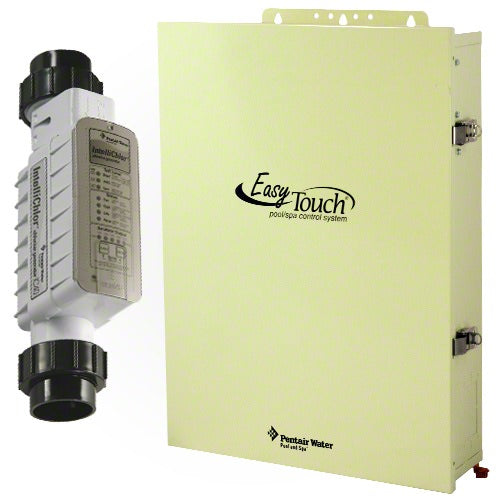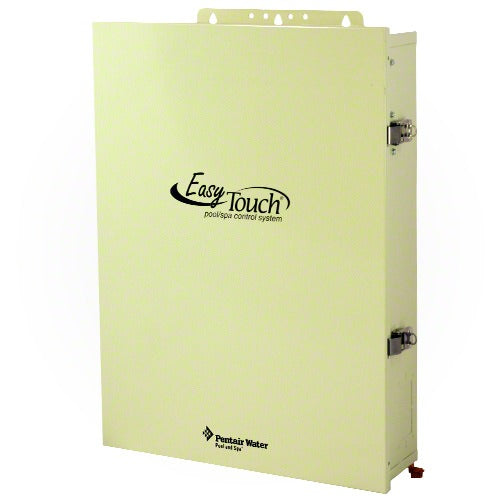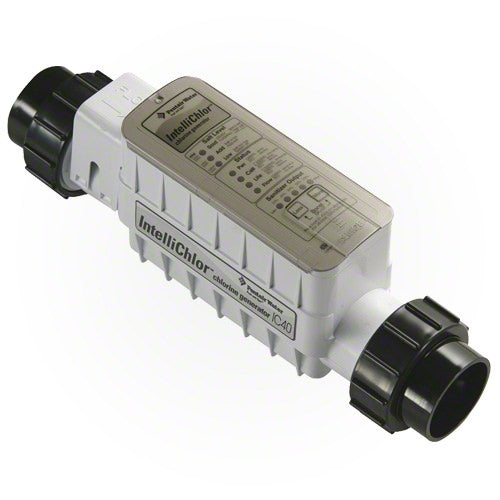 Pentair Easy Touch Control Control System with IC20 Chlorine Generator 520704
This item is IN STOCK
This item is TEMPORARILY OUT OF STOCK
Usually Ships Within 1 Business Day
Expedited Shipping NOT Available
Not Available Outside Contiguous US
Local purchase only (Ogden, UT or Las Vegas, NV)
This item is IN STOCK
This item is TEMPORARILY OUT OF STOCK
Pickup or Local Delivery Only
This product cannot be shipped. If you live within our local delivery range, you can choose to have the product delivered to your door, or you can pick it up in store. See below for our location information.
---
Ogden
Sunplay - Ogden
1075 S Depot Drive
Suite 1
Ogden, UT 84404
Store hours:
9am - 5pm, M-F
Item Details
Pentair Easy Touch Control System 520704
The EasyTouch 8PSC-IC20 Control System Includes:
Easy Touch 8PSC Control Panel for Either a Pool or Spa (Single Body System)
IntelliChlor IC20 Cell
150 Amp breaker base with space for ten 1" breakers.
Recommended for pools up to 20,000 gallons.
Who says pool automation has to be costly and complicated? Scheduling and controlling the operation of pool and spa equipment and related poolscape accessories became blissfully automatic, simple and affordable after the launch of EasyTouch control systems in early 2000. They eliminated the inconvenience of repeated trips to the equipment pad, memorizing operating sequences, opening and closing valves and resetting time clocks and thermostats.
What's more, EasyTouch systems set the standard for operating simplicity with push-button operation and clear, intuitive instructions and displays. Today, the EasyTouch family offers even more features, options and technology while remaining affordable for any inground pool owner. They also remain the simplest to program and operate…push-button simple.
It's like putting pool and spa operations on cruise control… Eight-function systems allow separate scheduling for additional features, such as landscape lighting, waterfalls, fountains, additional heaters, pumps and more.
Automatic water sanitization. Today, you also choose from systems that incorporate the revolutionary IntelliChlor chlorine generator. IntelliChlor uses plain salt to create pure chlorine for pool sanitization the convenient and automatic way. Electrolytic chlorine generation is the easiest, most effective and convenient way to keep pool water sparkling clean. Your EasyTouch system includes all circuitry and fully programmable controls in a single Load Center unit installed near your pool or spa equipment. For added flexibility and convenience, indoor, spa-side and wireless remote control devices can be added to any EasyTouch system.
As you can see, with EasyTouch systems, pool, spa and poolscape accessory operation—including sanitization—becomes as simple as operating your automatic lawn sprinkling system.
Pentair Easy Touch 8PSC-IC20 System Features:
ThermalFlo Heat Pump Intigration
Support for 2 VS or 2 VF Pumps
Supports 8 Feature Circuits
MagicStream Laminar Support
Control Panel Lockout
IntelliBrite Pool and Spa Light Support
iS10 Spa-Side Remote Support and Control of IntelliFlo Pump
Optional Controllers Available Are:
EasyTouch ICP (8 Function) 520549
EasyTouch Wireless (8 Function) 520547
4 Function Wireless Remote 520148
4 Button iS4 Spa-Side Remote 520149
IS10 Spa-Side Remote 520149
4 Function QuickTouch II Wireless Remote Control 521209
All functions controlled with easy, one-button access from the self-contained load center or optional controllers. No need to memorize operating sequences, open and close valves, or reset time clocks and thermostats.
Built-in diagnostics include automatic verification of the display, microprocessor, switches, indicators, relay outputs, valve outputs, sensor inputs, and communication ports as well as diagnostic screen that reports failures for troubleshooting and repair purposes.
Dimensions:
26" Height X 17" Wide X 5-1/4" Depth
UL and cUL approved

Pentair Easy Touch Control System 520704