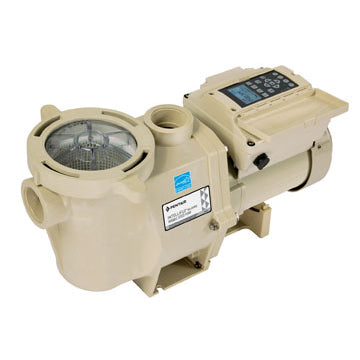 Pentair IntelliFlo VS+SVRS Variable Speed Pump EC-011057
This item is IN STOCK
This item is TEMPORARILY OUT OF STOCK
Usually Ships Within 1 Business Day
Expedited Shipping NOT Available
Not Available Outside Contiguous US
Item Details
Pentair IntelliFlo VS+SVRS Variable Speed Pump EC-011057
The Pentair IntelliFlo Variable Speed pumps combine variable drive technology, onboard digital intelligence, and permanent magnet motors (used in hybrid cars) to reduce pump-related energy costs by up to 90%. The new IntelliFlo VS+SVRS model is the first swimming pool pump to feature a built-in Safety Vacuum Release System that detects drain blockage and automatically shuts the pump off.
Traditional pool pumps have offered a limited number of single-speed and two-speed designs. Their motor speeds are set and unchangeable. These set speeds are almost always higher than required, thereby overpowering the jobs they are assigned to do, which wastes energy. What's more, these pumps rely on induction motors that are notorious energy hogs. In fact, even so-called energy-efficient pumps can cost more to operate than almost all other home appliances combined. Pump-related electric costs typically total hundreds of dollars per year—and often more than $1,000 in areas with the highest energy rates.
IntelliFlo pumps also include a variable speed capability, along with digital controls and proprietary software that allow custom programming of optimum pump speeds for specific tasks—filtering, heating, cleaning, spa jets, waterfalls, etc. There are eight individual, adjustable speed settings at your command. For virtually all applications, the optimum speed will be lower than the preset, unchangeable speed of older pumps.
Programming the IntelliFlo VS+SVRS pump is as easy as setting the stations on your car radio. With the pump running, simply press the speed button assigned to the operation you want to manage. Then, just press the "up" or "down" button to increase or decrease the speed setting between 1100 RPM and 3450 RPM. It's that simple to optimize water flow for any application.
The IntelliFlo VS+SVRS Variable Speed Pump is the first pump with an integrated Safety Vacuum Release System (SVRS) which provides an important layer of entrapment protection. Its built-in controller and proprietary software detect blockage of the drain and automatically shut the pump off. The IntelliFlo VS+SVRS pump meets ASME A112.19.17.2002 standards, thereby complying with new Federal legislation related to public pools (Virginia Graeme Baker Pool Safety Act), as well as a growing number of state and local statutes/codes for residential pools where entrapment protection measures are required.
Features:
Variable Speed Pump
Proprietary software designed to help detect a suction or drain blockage, automatically stopping the pump
SVRS (Safety Vacuum Release System) complies with Virginia Graeme Baker Safety Act
Unlike other devices, the built-in SVRS protection with the IntelliFlo pump cannot be turned off.
For added safety, if the SVRS becomes disabled, the pump will not run.
Rotatable keypad for easy programming and viewing
Keypad has the ability to be wall mounted with the optional wall mount kit (356904Z - Sold Separately)
Four function buttons to set / program exact pump speeds for specific operation - filtering, heating, cleaning, spa jets, water features and more - slashes energy costs up to 90%
Speed adjustment buttons - you or your pool professional dial in the most efficient speed for each application
Built-in diagnostics protect the IntelliFlo pump from the most common causes of premature failure - priming protection, overheating, freezing and voltage irregularities.
Safety lock-out feature (password protected) on SVRS model prevents pump speed settings from being changed by unauthorized personnel
Ability to set minimum and maximum speeds on SVRS model so IntelliFlo will only operate within the ranges set to help assure safe operation and long life
Alarm status light - a sequence of blinks alerts you of conditions that may need attention
Intuitive interface /HMI simplifies programming and use
Top-mounted field wiring compartment for easy access and installation
Interfaces perfectly with Pentair Automation Systems
NSF Certified, UL and ETL listed as an ASME A112.19.17.2002 Device
Energy Star Certified
Includes IntelliTouch - IntelliFlo Communication Cable
Specifications:
Speed: Variable
Voltage: 230
Full Load Amps: 16
Horsepower: 3 HP
Service Factor: 1.32
Service Factor Horsepower: 3.95
Port Size: 2" Intake and Discharge
Pentair EC-011057