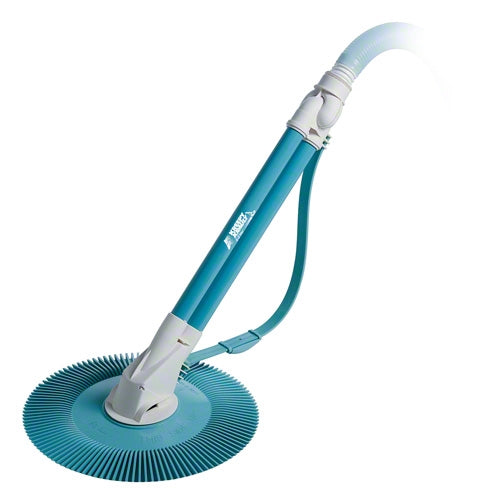 Pentair Kreepy Krauly E-Z Vac Pool Cleaner
This item is IN STOCK
This item is TEMPORARILY OUT OF STOCK
Usually Ships Within 1 Business Day
Expedited Shipping NOT Available
Not Available Outside Contiguous US
Item Details
Pentair Kreepy Krauly E-Z Vac Pool Cleaner
E-Z Vac is the powerful and efficient above-ground pool cleaner that delivers optimum vacuuming power and reliability due to its simple design. The cleaner will automatically clean the bottom of the pool and remove dirt and debris while moving in a random pattern. Only one moving part is needed to operate the cleaner which means there aren't any wheels or gears to jam. The vacuum hose attaches to your skimmer when in use to power the cleaner and to deliver the dirt to your pools filter.
E-Z Vac Features:
Above-Ground Pool Cleaner.
Works in both flat-bottomed and dish-shaped pools with a banked or radius cove.
The superior hydraulic design of the Kreepy Krauly E-Z Vac cleaner delivers optimum vacuum power, and its true random-pattern coverage makes sure your pool floor is thoroughly

vacuumed.
The E-Z Vac cleaner's simple design ensures a long, dependable life "flapper" is the only operational moving part.
No wheels or gears to jam or wear out, no diaphragms to replace, no bags or compartments to epty.
Free-skimming adjustable valve regulates water flow to assure proper cleaning speed while allowing simultaneous skimming of surface debris—both cleaning jobs are completed at once.
Attaches to your pool skimmer in minutes without tools, so it can start vacuuming leaves, dirt, sand, insects and other debris from your pool immediately.
Drive Tubes: Where water flow is intermittently directed to generate kinetic energy for mobility.
Bumper Strap: Protects the unit, allows freedom of movement around steps and ladder.
Swivel: converts water flow into a single stream for maximum hydraulic efficiency and peak cleaning performance
Adjustable Regulator Valve: Sets ideal travel speed for more thorough cleaning
Flapper: The only operational part is housed inside the unit. Divides water flow to help propel the E-Z Vac cleaner.
It's backed by one of the world's largest pool equipment manufacturers.
Includes 32 feet of cleaner hoses.


One-year limited warranty. See warranty for details.
Pentair K50600