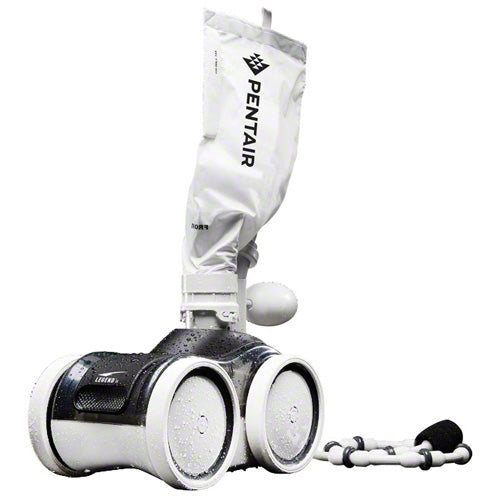 Pentair Kreepy Krauly Legend II Pool Cleaner LX5000G
This item is IN STOCK
This item is TEMPORARILY OUT OF STOCK
Usually Ships Within 1 Business Day
Expedited Shipping NOT Available
Not Available Outside Contiguous US
Item Details
Pentair Kreepy Krauly Legend II Pool Cleaner LX5000G
For fast, thorough pool cleaning the energy-efficient way, count on the powerful Kreepy Krauly Legend II in-ground pool cleaner. This newly improved cleaner includes a host of patented design features that deliver powerful vacuuming performance and long service life without consuming any extra energy. It attaches to your return line and operates during your normal filtration cycle.

Kreepy Krauly Legend II Key features include:
Delivers the same cleaning power and performance as Legend…only no booster pump required.
Features NEW design with more vacuuming power than ever.
Dual thrust jets ensure optimum speed and ultimate cleaning performance cleans most pools in just 1- 3 hours.
Front-wheel drive provides maximum traction on inclined surfaces for total cleaning coverage of pool bottom and walls.
Solid 4-wheel design and wide base prevent tipping (common with 3-wheel cleaners) for superior stability and reliable, continuous operation.
60% larger debris bag captures more dirt, wider bag opening makes emptying a cinch, and snap-lock bag provides easy, secure closure.
Legend II In-ground Pool Cleaner By Pentair Water Pool and Spa The brand of choice for more than million pool owners worldwide.
Installs in minutes to your return line.
Extra-large collection bag extends time before it needs to be emptied…easy to remove and reattach.
Built-in backup valve activates every 3.5 minutes to ensure total coverage and avoid hang-ups by steps and in corners.
Dual-jetted venturi creates powerful whirlpool/vacuum action for more thorough pool cleaning.
Recommended for all gunite, vinyl and fiberglass pools.
One-year limited warranty. See warranty for details.
Color:
An Eco Select Choice:
The Eco Select brand identifies our "greenest" and most efficient equipment choices. The powerful Legend II pressure-side automatic pool cleaner does not require a booster pump, providing highly energy-efficient cleaning performance.

Kreepy Krauly Legend II in-ground pool cleaner features a 60% larger debris bag and an extra-large intake throat that handles anything your pool environment throws at it…leaves, twigs and sand are removed with ease. Plus, for all its power, Legend II is simple to install and simple to operate.
PentairLX5000G