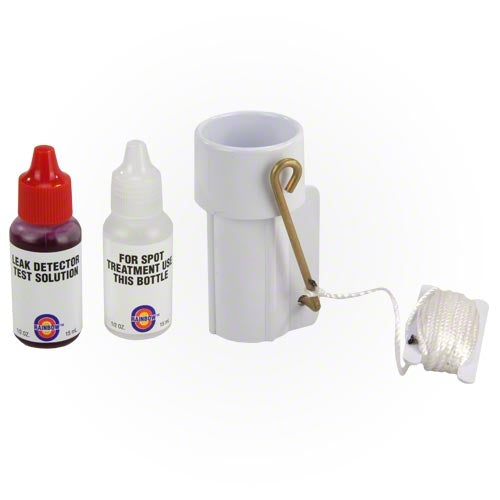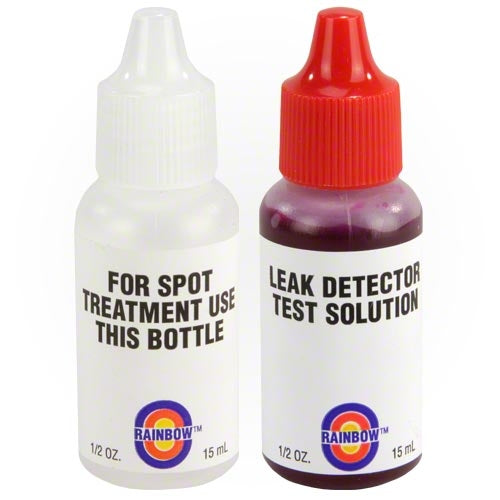 Pentair Pool and Spa Leak Detector Kit
This item is IN STOCK
This item is TEMPORARILY OUT OF STOCK
Usually Ships Within 1 Business Day
Expedited Shipping Available
Item Details
Pentair Pool and Spa Leak Detector Kit
The Pentair Pool and Spa Leak Detector Kit is the simple way to detect leaks in swimming pools and spas. The Pool and Spa Leak Detector Kit includes a dispenser that attaches to your telescopic pole, leak detector solution and spot treatment bottle.
The leak detector dispenser allows you to find leaks without having to enter into the pool or spa water and works with all types of swimming pool and spas surfaces. Place the leak detector solution into the dispenser and then attach the dispenser to the end of your swimming pool pole. The solution is dispensed into the swimming pool by pulling on the string attached to the dispenser.
Your leak detector can also be used as a method of spot treating pools with liquid chlorine, acid or algae treatment (see instructions).
Pool and Spa Leak Detection Kit Includes:
Leak Detector Dispenser with 16' Pull String
Leak Detector Solution Bottle - 1/2 ounce
Spot Treatment Dispenser Bottle - 1/2 Ounce
Instructions for use:
Attach the leak detector dispenser to the end of your swimming pool pole by pressing it over the end of the pole. Place the 1/2 ounce bottle of leak detector dye solution into the dispenser. Remove the cap from the solution bottle. You are now ready to test for leaks as follows:
1. Most leaks are in places such as around pool lights, return line fittings, main drains, visual cracks, etc.
2. Simply position the leak detector beneath the surface of the water adjacent to a suspected leak. By pulling the string (16' long) the test dye will be expelled. Only enough dye to cloud the water in the immediate area of the suspected leak is needed.
3. Visual confirmation of a leak is determined by seepage of the dye into the leak.
Test should be made with the pool pump turned off. Also, return line leaks can be detected by expelling dye at at eyeball fittings. If there is a leak, dye will seep into return line outlet. Your leak detector can also be used as a method of spot treating pools with liquid chlorine, acid or algae treatment. Simply remove dropper bottle cap and fill the spot treatment bottle with the liquid and dispense on the trouble spot.

Pentair R220006