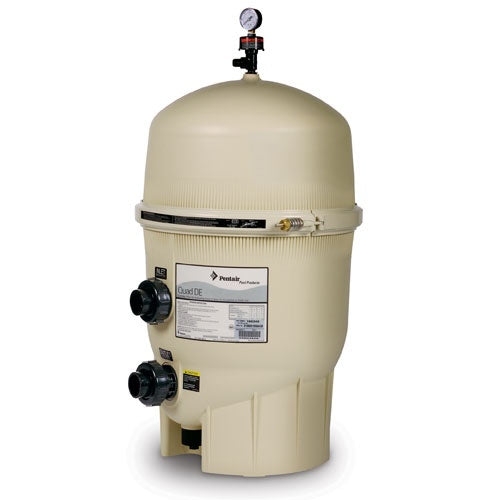 Pentair Quad D.E. 80 Filter EC-188593
This item is IN STOCK
This item is TEMPORARILY OUT OF STOCK
Usually Ships Within 1 Business Day
Expedited Shipping NOT Available
Not Available Outside Contiguous US
Item Details
Pentair Quad D.E. 80 Filter EC-188593
Diatomaceous earth (D.E.) filters have always been recognized for providing the cleanest pool water. And, cartridge filters are popular for their convenience and easy-cleaning features. Now Pentair has found a way to bring you the best of both.
The new Quad D.E. filter features four easily accessible and removable D.E. cartridges. When water passes through these cartridges, microscopic impurities like dirt, algae and some forms of bacteria are filtered out, giving you water that really sparkles. The four-cartridge design greatly increases the filter's internal surface area, meaning much greater cleaning capacity per cycle without an increase in canister size.
And cleaning couldn't be easier. In fact, you have three options; backwash and recharge like a traditional D.E. filter, remove and rinse off the cartridges, or simply remove the lid, leave the cartridges in place, open the drain plug and rinse.
The Quad D.E. filter combination of diatomaceous earth (D.E.) and cartridge element convenience means better performance and superior water clarity. Because D.E. removes the tiniest of contaminants and particles as small as five microns you can count on clean, crystal-clear water for years to come.
Features:
Four large-capacity cartridges provide maximum filter surface area for greater dirt-trapping capacity.
Unique internal flow path ensures optimum filtration and backwashing efficiency.
Easily removable cartridge elements to simplify maintenance and save you time.
Manual air relief valve and continuous internal air relief work together to maintain efficient filtration.
Durable 8-oz. polyester cartridge media has super-slick surfaces, making them easier to clean than conventional cartridge filters.
Attractive almond-colored tank blends into any backyard environment.
Cartridges are designed with slick surfaces so dirt easily rinses off. Remove and rinse, or rinse in place. Or, backwash and recharge like a traditional D.E. filter.
Specifications:
2" plumbing for simple and secure maximum flow.
80 Square Foot D.E. Filter
160 Gallons Per Minute Flow Rate
8 lbs D.E. Required (Not Included)
Pentair EC-188593