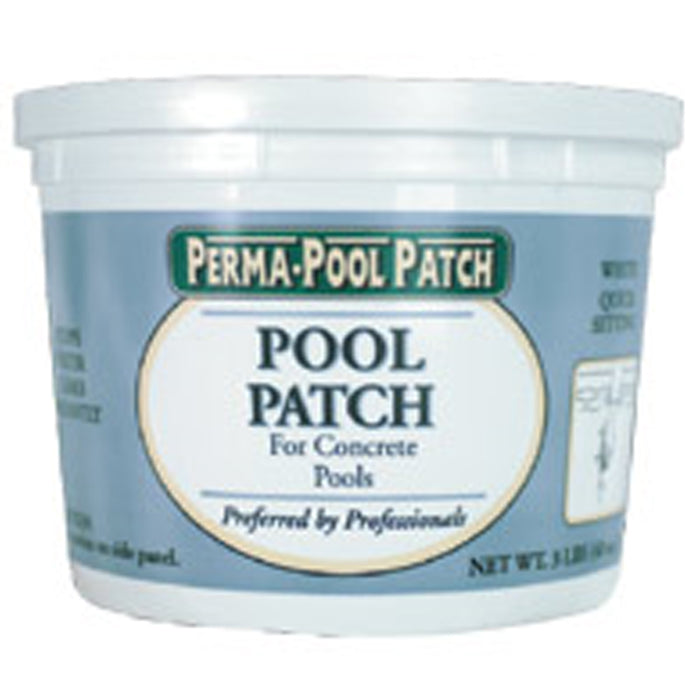 Perma-Pool Patch for Concrete Pools
- 3 Pounds
This item is IN STOCK
This item is TEMPORARILY OUT OF STOCK
Expedited Shipping NOT Available
Not Available Outside Contiguous US
Item Details
Perma-Pool Patch for Concrete Pools
Pool Patch is a fast setting, high strength patching and repair mortar that may be used above or below water levels. Pool Patch can be used in pools, concrete holding tanks, concrete pipe or virtually anywhere concrete repairs are needed.
Features:
Concrete pool patch
Can be used above or below water levels
Stops the loss of water
Rapid setting
Easy to mix
Can be colored to match existing substrates
Excellent bonding properties
Waterproof
Chloride and metal free mortar
Freeze-Thaw stable
Can be shaved and molded to desired contour
Once set,

Pool Patch

is resistant to hydrostatic pressure
Substrate Preparation:
Underwater: Wire brush area of repair to remove loose or flaking. When possible, undercut the repair area to insure the best results.
Above Water Level: Undercut the substrate and open the crack or hole to a minimum depth and width of 1". Wire brush and then flush away all loose material. Remove all oil, grease, dirt and other contaminates to expose clean sound concrete. All traces of oil, dirt or grease must be removed by scrubbing with an industrial detergent. After scrubbing, flush thoroughly with clean water. The substrate surface must be SSD (Saturated Surface Dry) prior to application.
NOTE: Do not apply to frozen substrates or where ambient temperatures are below 35 degrees.
MIXING:
Mix Pool Patch with clean potable water. Add just enough to make a putty consistency. Water ratio is 3 parts powder to 1 part water. Pool Patch is to be mixed in small quantities due to rapid set time.
Underwater: Mixing in a small pail, take Pool Patch in gloved hand and hold until material starts to firm up. Then, immediately press into hole or crack. Hold for 1 minute, longer if needed, until Pool Patch has set up. Repeat procedure until crack has been filled. Pool Patch may be shaved flush with the side of the pool once initial set has occurred.
Above Water Level: Mix sufficient material to complete repair, but not more than can be placed in 10 minutes. Place by trowel into properly prepared surface and shape to contours of repair area. Areas covered with Pool Patch can be covered with a cementitious coating one hour after the application.
Note: Cooler temperatures will increase the pot life an set time of Pool Patch. Warmer Temperatures will decrease them.