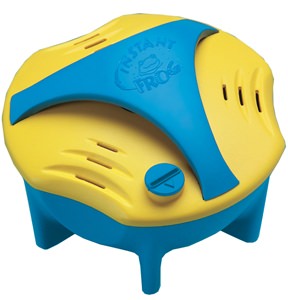 This item is IN STOCK
This item is TEMPORARILY OUT OF STOCK
Usually Ships Within 1 Business Day
Expedited Shipping NOT Available
Not Available Outside Contiguous US
Item Details
Pool Frog Instant Frog

Instant Frog minerals help rid the water of nasty bacteria while conditioning the water for extra softness and a shine you can see your reflection in. We call it Mineral Pool Care Instantly because it goes to work as soon as you place Instant Frog in your skimmer basket.

Instant Frog uses the same revolutionary mineral technology as other Pool Frog products. You can reduce the use of chlorine up to 50% by simply dropping the Instant Frog into your skimmer basket, which results in less eye and skin problem, less fading to bathing suits and, best of all, less work!

That's right. Open your eyes under water and spend the day in the pool without worrying about dry, itchy skin, red, burning eyes or faded swimsuits. And take back the fun of your pool by reducing the work and increasing the pool's life. You can do all of this and more; not tomorrow, not next year, but right now with Instant Frog.

Instant Frog was made especially for existing in-ground pools because there is no installation and it fits easily into most in ground skimmer baskets. Simply set the easy reminder dial to six months from date of purchase and let Instant Frog handle the bulk of your water treatment needs. Then replace with a fresh one every six months. If your pool is less than perfect, open your eyes and see what you've been missing.

A single Instant Frog treats swimming pools up to 25,000 gallons. If you have a larger swimming pool with multiple skimmers you can add two Instant Frogs and you will be able to treat a pool up to 50,000 gallons.

Features:
Fresh Mineral Water System for In Ground Pools only up to 25,000 gallons
Kills bacteria with up to 50% less chlorine
Simply sits in the skimmer basket and lasts all summer or 6 months whichever is shorter
Supplement with a low level of chlorine through a floater, chlorinator or place a chlorine puck under Instant Frog in the skimmer
Use with Frog Bam for a 90 Day No Algae Guarantee!
Instant Frog 01-18-4406