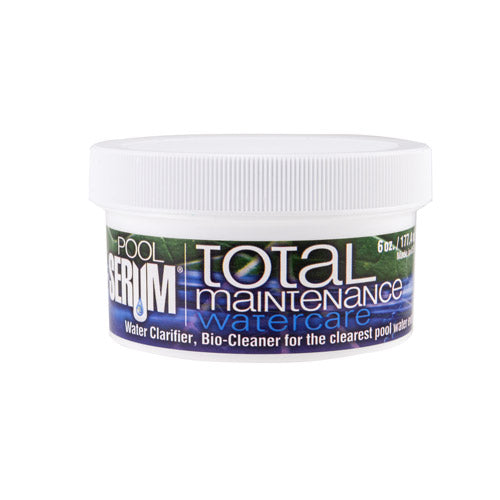 Pool Serum Total Maintenance Water Clarifier
This item is IN STOCK
This item is TEMPORARILY OUT OF STOCK
Expedited Shipping NOT Available
Not Available Outside Contiguous US
Item Details
Pool Serum Total Maintenance Water Clarifier
Pool Serum Maintenance Bio-Cleaner and Clarifier is an environmentally friendly, easy to apply gel that will keep working for a full month in your pool. 
The clinical science behind this product shows superiority to many other water clarifiers. This is a very concentrated gel that works quickly and efficiently doing many beneficial maintenance jobs. 
You can reduce the amount of chlorine or sanitizer your use as Pool Serum Maintenance synergizes with your present chemical program making it more efficient. Great for salt water systems too. You can turn your salt system production down so the electrolytic cell will last longer. Calcification and other scaling on the cell plates will be reduced as the Pool Serum will keep them cleaner.
Features:
Concentrated pool clarifier that lasts a full month in your pool
Replaces the need for algaecides and clarifiers
Filter and plumbing lines stay whistle clean
Salt generator cells last longer (you can decrease the production level with Pool SERUM)
Liners will last longer and remain supple (Don't dry out as fast)
Aggregate surfaces will be smoother with less calcium barnacles
Heater, heat pump and solar systems will last longer due to lower sanitizer levels
Pool cleaners have less particulates to capture lowering turbidity levels
Size:
Dosage:
Add 6 ounces of this product per 20,000 gallons of pool water. For best results use monthly.