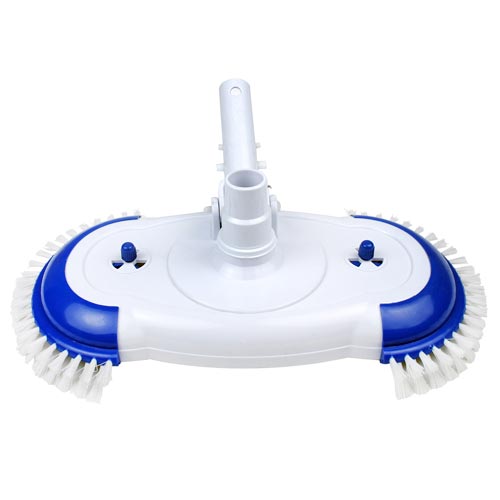 Poolmaster Deluxe Air Relief Vinyl Liner Vacuum 27402
This item is IN STOCK
This item is TEMPORARILY OUT OF STOCK
Usually Ships Within 1 Business Day
Expedited Shipping Available
Item Details
Poolmaster Deluxe Air Relief Vinyl Liner Vacuum 27402

This vacuum is recommended for fiberglass or vinyl swimming pools. It includes two air relief valves, preventing sticking to the bottom of the pool during operation. Poolmaster's weighted vacuum design allows easier control underwater and has durable, replaceable nylon bristles.
The vacuum allows for 1-1/4 inch or 1-1/2 inch vacuum hoses and has a swivel function, so you don't end up with a tangled mess. On the handle, a stainless-steel tension spring keeps the vacuum submerged and level on floor of the pool.
Features:
Manual Vinyland Fiberglass Pool Vacuum
Air Relief Valves to prevent the vacuum from sticking to the bottom of the pool
Weighted for easier control
Replaceable nylon bristles
Connects to standard 1-1/4" and 1-1/2" vacuum hose
Swivel hose attachment prevents tangles
Tensions springs on the handle helps keep the vacuum on the floor surface
Dimensions:
Poolmaster 27402