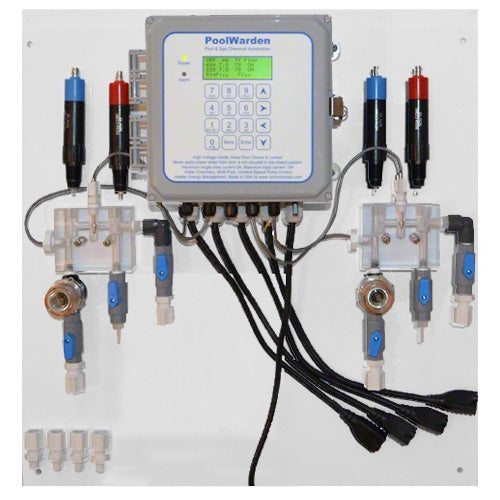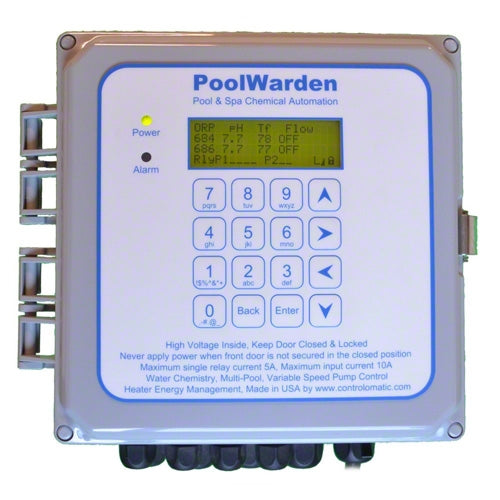 ControlOMatic PoolWarden Controller / Sensors / Flow Cells - Mounted - PW-DMTD
This item is IN STOCK
This item is TEMPORARILY OUT OF STOCK
Usually Ships Within 1 to 2 Business Days
Expedited Shipping NOT Available
Not Available Outside Contiguous US
Item Details
ControlOMatic PoolWarden Controller / Sensors / Flow Cells - Mounted
The controller, sensors, and two flow cells are all included for this two-pool chemical automation system. It is mounted on a 24" tall, 12" wide, and 3/8" thick white backboard. The flow cells, sensors, controller, fittings and flow switch are all pre-installed and ready to function. Simply hang the backboard on a wall, plumb in the water in and out of the flow cells, install the pH and ORP sensors and turn it on. The flow cables are all 3 feet because the flow cell is very close to the PoolWarden. By having all this ready to go, you should be able to start programming your controller right away.

It includes two acrylic flow cells for the water that is sensing by-pass, ORP, pH, temperature, and flow sensor. The flow sensor is a magnet in-line with the water inlet to the flow cells that will rise and trigger the sensor when there is flow.

The flow cells and sensors are tools for this device that do the calculations and testing of the water. The flow cells and sensors will be in sync with your pools pH levels, chemicals, chlorination, pool temperature, pump systems, and alarm systems, then will relay that information to the controller where the results will be processed and displayed to you. Now you can manage your chemical levels, allow the sensors to notify PoolWarden and then further communicate to dispensers and other environment control devices you have. The relay wizards will guide you through your process.

ORP technology has received widespread application in this country as the basis of automated chemical control equipment. The reasoning is clear: Only an Oxidation-Reduction Potential sensor can deliver the kind of feedback needed to control feeders for sanitizer and pH adjusting chemicals.

This system will know exactly what levels are needed to keep a pool sanitary and free of corrosion. With the ORP system relaying information to dispensers, they can release exactly the right amount of chlorine and pH levels into your pool, you will be able to save money all together because you won't over use chemicals or have time automated systems that are not checking the pools balance.

This will save equipment from deterioration and water hardness damage and will create a longer life span for the pool surfaces, equipment, and other applications that you have functioning within your pool. Combined with a pH sensor, these controllers can be used to activate liquid feed pumps, or erosion type feeders for dry chemicals. They also can monitor pool water chemistry and store the data.

This complete system will accurately prepare a safe swimming environment with you knowing exactly which chemicals are in your pools and how much.

Controller / Sensors / Flow Cells Features:

Pool chemical automation controller with flow cells and sensors mounted on backboard.
pH, ORP, Temp Sensors, Flow Switch, Cables, Fittings and Filter.
The entire system is ready to prepare your pool for ultimate sanitary use.
Programmable pH, ORP and temperature set points.
Precise chemical control with minimal overshoot. The proportional feed percentage is also adjustable.
Each relay has a wizard for configuration making setup a snap.
80 Character display with back light.
16 Button keypad for easy value entry.
Temperature Sensor.
Includes real time clock with both the time and date.
Designed to work with salt chlorine generators.
Control options include programmable feed on and off times, proportional control and over-feed limits.
Includes 4 Relays.
Programmable manual feed mode.
All relays disable for when the pool is being serviced.
Service Logging with the optional WIFI communication, track when and who serviced the pool.
Connect and view information on any computer through WIFI.
Data recording built in, almost 3 months at 15 minute intervals.
Heater energy management, save money on heating costs!
Save money by not over using chemicals and having longevity as a main priority.
Specifications:
ORP: 0 to 999 mV
Temperature: 0 to 50 °C. 32 to 120 °F.
pH: 4.2 to 9.8
Input voltage: 110 VAC, 10A fuse.
ControlOMatic PW-DMTD