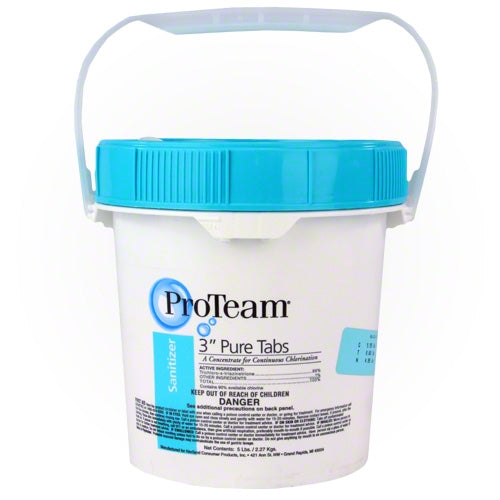 ProTeam 3" Pure Tabs 5 Lbs
This item is IN STOCK
This item is TEMPORARILY OUT OF STOCK
Pickup or Local Delivery Only
This product cannot be shipped. If you live within our local delivery range, you can choose to have the product delivered to your door, or you can pick it up in store. See below for our location information.
---
Ogden
Sunplay - Ogden
1075 S Depot Drive
Suite 1
Ogden, UT 84404
Store hours:
9am - 5pm, M-F
Item Details
ProTeam 3" Pure Tabs

ProTeam Pure Tabs are the smart choice to keep your pool water sanitized, and to stop bacteria and algae growth. 3-inch Pure Tabs are designed for use in floating dispensers or automatic chlorinators and are long lasting, dissolve slowly and at a consistent rate to help maintain crystal clear swimming pool water.
ProTeam Pure Tabs are stabilized to protect against chlorine loss to due the sun's UV rays. Pure Tabs contain 99% active ingredients (Trichlor-s-triazinetrione) and 90% available chlorine. Keep your swimming pool crystal clear and bacteria free with ProTeam Pure Tabs.

ProTeam Pure Tabs Feature:
3" Chlorine Tablets
Stabilized to protect against chlorine loss
Perfect for chlorine feeders and floating dispensers
Kills bacteria and prevents algae growth
Slow dissolving
Provides steady levels of chlorine into pool
Will not clog feeders
Will clean gummed up feeders
Each 3" Pure Tab weighs 8 ounces
Size:
Active Ingredients:
Trichlor-s-triazinetrione 99%
Other 1%
90% Available Chlorine