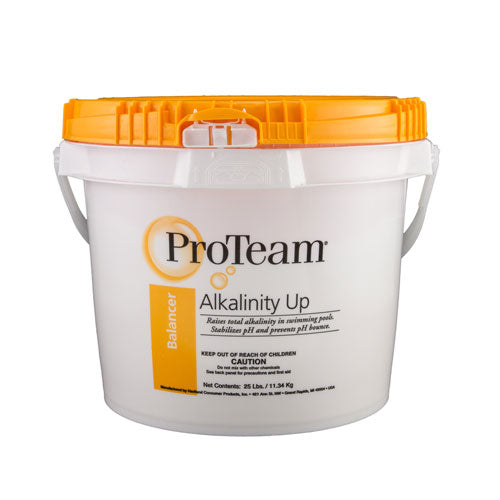 ProTeam Alkalinity Up - 25 lbs
This item is IN STOCK
This item is TEMPORARILY OUT OF STOCK
Pickup or Local Delivery Only
This product cannot be shipped. If you live within our local delivery range, you can choose to have the product delivered to your door, or you can pick it up in store. See below for our location information.
---
Ogden
Sunplay - Ogden
1075 S Depot Drive
Suite 1
Ogden, UT 84404
Store hours:
9am - 5pm, M-F
Item Details
ProTeam Alkalinity Up
Alkalinity Up is used for increasing the total alkalinity of swimming pool water. Ideal total alkalinity levels will help control pH fluctuations in pool water. Total alkalinity should be maintained between 80 and 120 parts per million (ppm).
Features:
Increases alkalinity levels in pool water
Proper alkalinity levels helps control pH fluctuations in pool water
Powdered formula
Size:
Dosage Amounts:
Add 1.4 pounds of this product for every 10,000 gallons of water to increase total alkalinity 10 ppm. 
Complete dosage chart found on bucket.