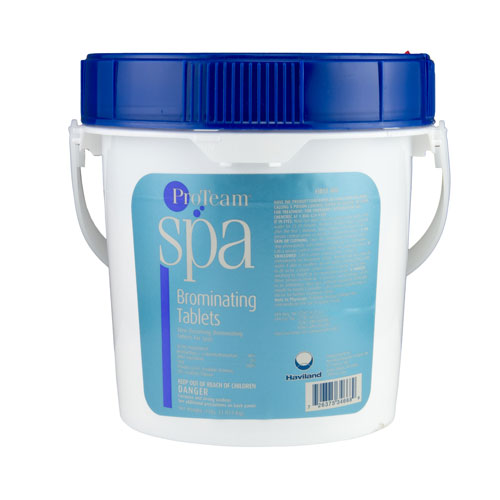 Proteam Brominating Tablets 4 lbs
This item is IN STOCK
This item is TEMPORARILY OUT OF STOCK
Pickup or Local Delivery Only
This product cannot be shipped. If you live within our local delivery range, you can choose to have the product delivered to your door, or you can pick it up in store. See below for our location information.
---
Ogden
Sunplay - Ogden
1075 S Depot Drive
Suite 1
Ogden, UT 84404
Store hours:
9am - 5pm, M-F
Item Details
ProTeam Bromine Tablets
The ProTeam Bromine Tablets are 98% Strength. Compare to any brand and you will see why these are the best Bromine Tablets money can buy. Especially at this Price!
Features:
Slow dissolving brominating tablets for spas
A concentrated source of active bromine.
These tablets dissolve slowly and evenly in hot tub feeders and floaters to provide continuous disinfection of your spa.
As effective as chlorine.
Odor free.
Size:
Active ingredient:
98% Bromochloro-5, 5- Dimethylhydabtoin
Dosage:
Introduce 3 tablets per 300 gallons of water with the use of a floating tablet feeder or automatic brominator installed in spa equipment. Add 3 tablets every 5-7 days as needed to maintain an active bromine residual level 2 ppm at all times.