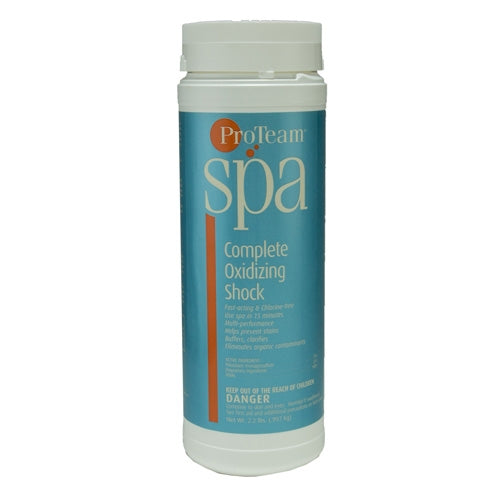 ProTeam Complete Oxidizing Shock - 2.2 Pounds
This item is IN STOCK
This item is TEMPORARILY OUT OF STOCK
Usually Ships Within 1 Business Day
Expedited Shipping NOT Available
Not Available Outside Contiguous US
Item Details
ProTeam Complete Oxidizing Shock
ProTeam Complete Oxidizing Shock is a powerful, oxygen-based and fast acting oxidizing shock for spas and hot tubs. The unique blend of ingredients promotes maximum sanitizer efficiency by eliminating contaminants from the water.
Since this product contains no chlorine it will not raise chlorine. Continued use of this product will leave clean and beautiful water with no odors. Additionally, continued use will result in easier water to balance, softer water, and scale prevention.
Features:
Fast Acting Non-Chlorine Shock
Oxygen based formula that is fast acting
Eliminates contaminants from water
Reduces unwanted odors
Compatible with most sanitizing systems
Size:
Ingredients:
Potassium monopersulfate 75%
Other ingredients 25%
Dosage Amounts:
Add 1.5 ounces of this product per 200 gallons of water.
Note:
If you compare Proteam chemicals with other spa chemical manufacturers, you'll quickly discover that ProTeam Spa Oxidizing Shock offers the best value for the money.