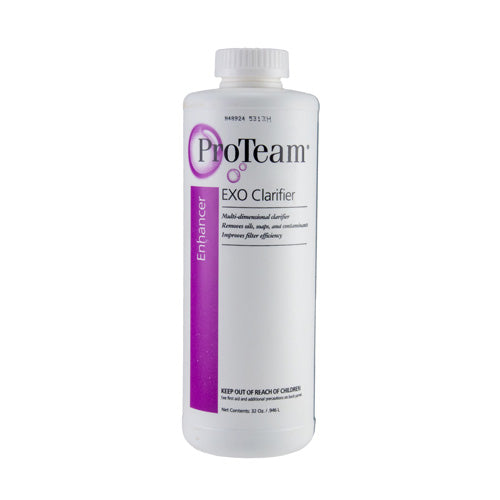 This item is IN STOCK
This item is TEMPORARILY OUT OF STOCK
Usually Ships Within 1 Business Day
Expedited Shipping Available
Item Details
ProTeam EXO Clarifier
EXO Clarifier is simply the best clarifier for pool water! Other brands of clarifiers base their formulas on petroleum, not not EXO Clarifier! ProTeam starts with chitin, which comes from crab and shrimp shells, which would otherwise be dumped into bays and landfills. By starting with an all natural base ProTeam can make an environmentally safe product which is not only safe and non-toxic, but works better than all the others.
Features:
Multi-dimensional clarifier for swimming pools
Removes oils, soaps and contaminants
Improves filter efficiency
Environmentally freindly, safe and non-toxic
32 Ounces
Dosage Amounts:
Cloudy Water - Add 2 ounces of this product for every 5,000 gallons of water
Maintenance Dose or to Add Clarity - Add 1 ounce of this product for every 7,500 gallons of water each week.