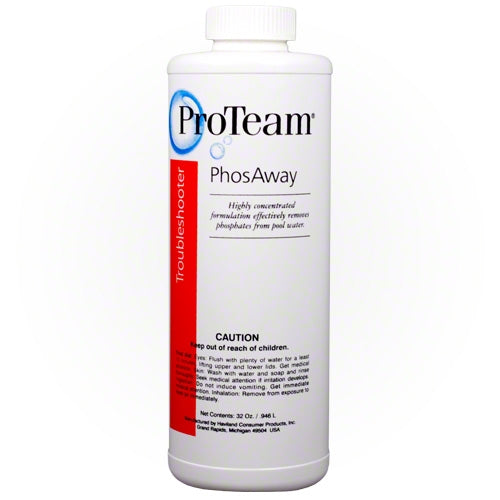 ProTeam PhosAway - 32 oz.
This item is IN STOCK
This item is TEMPORARILY OUT OF STOCK
Usually Ships Within 1 Business Day
Expedited Shipping Available
Item Details
ProTeam PhosAway
ProTeam PhosAway is a highly concentrated formula for removing phosphates from pool water. The accumulation of phosphate in pool water may lead to decreased chlorine activity and an increase of algae present in the pool water. PhosAway will help reduce the amount of phosphates in swimming pool water through the pools filtration system.

PhosAway can be added as part of a weekly maintenance program or as needed to eliminate phosphates from the water.
Features:
Removes phosphates in pool water
Improves chlorine performance
Helps to prevent alagae
Size:
Directions for use:
1. Be sure water is properly balanced.
2. For pool water with algae, shock using a chlorinated product (ProTeam Multi-Magic Shock or ProTeam Quick Shock). If the pool is free of algae, shock using a non-chlorine shock (ProTeam Shock and Swim).
3. Test for phosphates using a reliable Phosphate Test Kit.
4. Measure the proper amount of PhosAway (refer to dosage chard) and add into the pool.
5. Keep pump and filter running for at least 24 hours for water to clear (water could take up to a week to completely clear).
6. Monitor filter pressure and clean or backwash as necessary according to manufacturer's instructions.
7. Test for phosphates monthly and use PhosAway to maintain levels below 125 ppb (parts per billion)
ProTeam PhosAway Dosage Chart
Check the application chart to determine the amount of this product to use for your pool. To a freshly filled pool or at first visible signs of algae growth, pour the required amount of this product into a plastic water can, fill the water, and sprinkle the diluted product around the edge of the pool. For best results, the mixture should be distributed equally around the edge of the pool.
| | | | | |
| --- | --- | --- | --- | --- |
| Gallons of Water | 125 ppb | 250 ppb | 500 ppb | 1000 ppb |
| 5,000 gallons | 1 Ounce | 2 Ounces | 4 Ounces | 8 Ounces |
| 10,000 gallons | 2 Ounces | 4 Ounces | 8 Ounces | 16 Ounces |
| 15,000 gallons | 3 Ounces | 6 Ounces | 12 Ounces | 24 Ounces |
| 20,000 gallons | 4 Ounces | 8 Ounces | 16 Ounces | 32 Ounces |