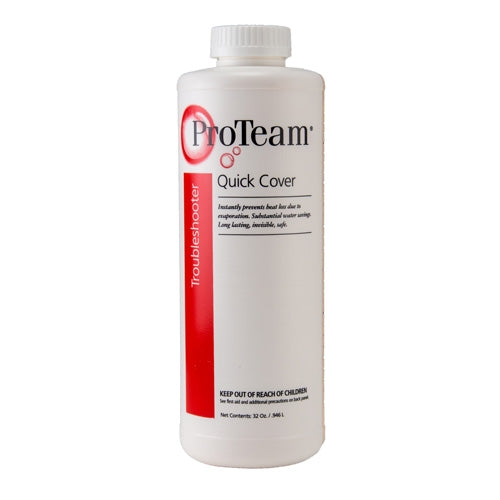 This item is IN STOCK
This item is TEMPORARILY OUT OF STOCK
Usually Ships Within 1 Business Day
Expedited Shipping Available
Item Details
ProTeam Quick Cover
Have you ever seen steam rise from your pool? The number one reason for heat loss in pools is due to evaporation. This common pool issue occurs mostly when the water temperature is higher than the air temperature. You can use a plastic solar cover to prevent evaporation. However, solar covers are bulky, difficult to take on and off, and potentially dangerous on or around your pool. ProTeam's specialty liquid formula prevents evaporation, which helps to keep the pool water heated. Only a small amount needs to be applied to experience the benefits.
Features:
Instant pool cover
Instantly prevents heat loss due to evaporation
Substantial water savings
Easier to use than solar covers
Long lasting, invisible and safe
32 Ounces
Dosage Amounts:
2 Ounces per 300 square feet of surface area each week. 
Examples; 18' round pool would need only 2 ounces per week. A 16' x 32' pool would need just 3.5 ounces per week.