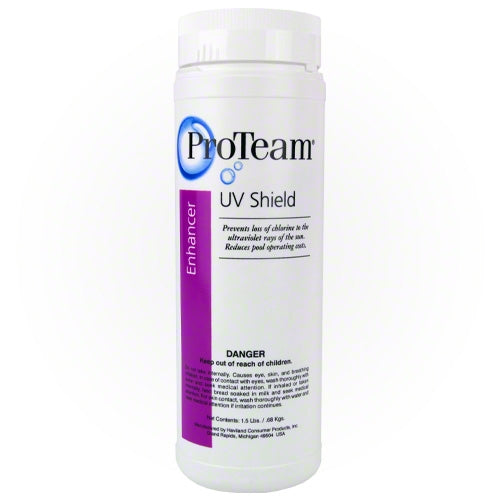 ProTeam UV Shield Stabilizer (Cyanuric Acid) 1.5 lbs
This item is IN STOCK
This item is TEMPORARILY OUT OF STOCK
Usually Ships Within 1 Business Day
Expedited Shipping NOT Available
Not Available Outside Contiguous US
Item Details
ProTeam UV Shield (Cyanuric Acid)
ProTeam UV Shield saves you money by stabilizing pool water and preventing unnecessary loss of chlorine to the sun's ultraviolet rays. Ultraviolet rays breaks down chlorine molecules, reducing the effectiveness of chlorine sanitizers in swimming pools. UV Shield pool stabilizer works with the chlorine in the swimming pool to reduce the effects ultraviolet rays have on chlorine. Cyanuric Acid levels in a swimming pool should be maintained between 30-50 ppm. Without a proper level of stabilizer (cyanuric acid) in the water, chlorine loss can be as much as 1 ppm every half hour. With the proper level of cyanuric acid in the water that loss can be reduced to as little as 1 ppm every 7 hours.
Features:
Stabilizer prevents chlorine loss due to the suns UV rays
Reduces chlorine consumption and maintenance costs
Improves efficiency of chlorine generators
1.5 Pounds
Directions for use:
Backwash or clean filter.
Add one pound of UV Shield per 3,000 gallons of pool water, broadcasting over the water surface to achieve an initial level of 40 ppm. If pool piping is PVC, product may be applied slowly feeding through the skimmer with pump operating. Should filter pressure increase, discontinue treatment until chemical dissolves and pressure drops before resuming application.
Note:
Do not allow levels to exceed 100 ppm as indicated by a test kit.
ProTeam UV Shield