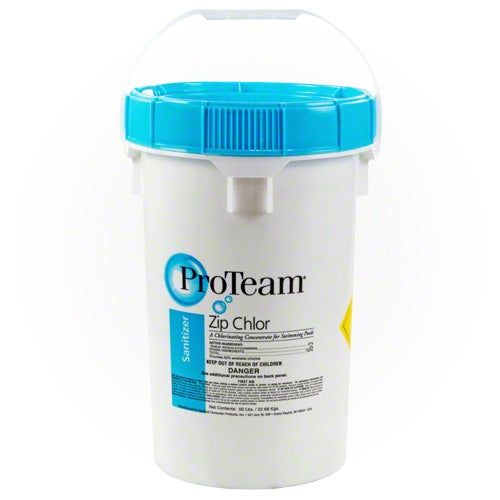 ProTeam Zip Chlor - 50 Lbs
This item is IN STOCK
This item is TEMPORARILY OUT OF STOCK
Pickup or Local Delivery Only
This product cannot be shipped. If you live within our local delivery range, you can choose to have the product delivered to your door, or you can pick it up in store. See below for our location information.
---
Ogden
Sunplay - Ogden
1075 S Depot Drive
Suite 1
Ogden, UT 84404
Store hours:
9am - 5pm, M-F
Item Details
ProTeam Zip Chlor - Granular Chlorine
Zip Chlor chlorinating granules are highly concentrated, stabilized and quick dissolving.
Zip Chlor Features:
Chlorinating Granules for Swimming Pools
Concentrated formula
Stabilized to prevent chlorine loss caused by the suns UV rays
Completely soluble and quick dissolving
50 Pound Bottle
Ingredients:
Sodium Dichloro-s-triazinetrione 97%
Other 3%
Available Chlorine 62%
Dosage Amount:
Add 2.5 ounces of Zip Chlor for 10,000 gallons of water on average for regular maintenance.