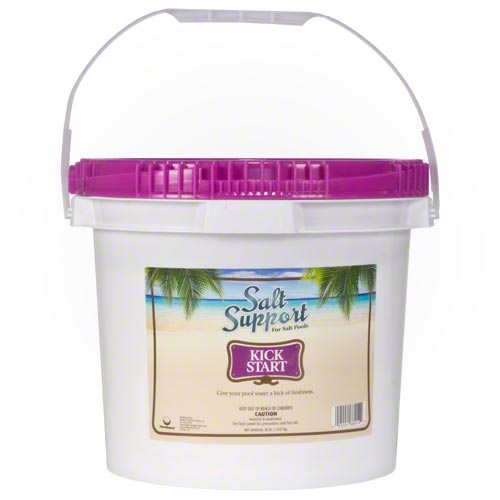 Salt Support Kick Start - 20 Lbs
This item is IN STOCK
This item is TEMPORARILY OUT OF STOCK
Usually Ships Within 1 Business Day
Expedited Shipping NOT Available
Not Available Outside Contiguous US
Item Details
Salt Support Kick Start
Kick Start is the mid-season or anytime refresher for System Start and makes your water feel new again. It is a Water Clarifier, pH Buffer, Water Balancer Water and Conditioner in one simple product. 

Kick Start will make taking care of pool water easy and will make your time in it even more refreshing! When added into the pool Kick Start will help maintain water balance, so you will spend less time testing and adding products into your pool. It will reduce the time you spend performing maintenance on your filter and will also reduce sanitizer consumption.
Features:
Part of the Salt Support water care system
Give your pool water a kick of freshness
Water Clarifier
pH Buffer
Water Balancer
Conditioner (stabilizer/CYA/cyanuric acid or whatever you want to call it)


Dosage Amounts:
Kick start residual should be maintained between 30 to 50 ppm using a borate test strip or kit. You can typically have this tested at your local pool store. 
Initial Dose - Add (2) pounds of this product per 1,000 gallons of water in freshly filled pools.
Maintenance Dose - To increase levels by 10 ppm add (7) pounds of this producter for every 10,000 gallons of water. 
Kick Start is the mid-season or anytime refresher for System Start. Makes your water feel new again