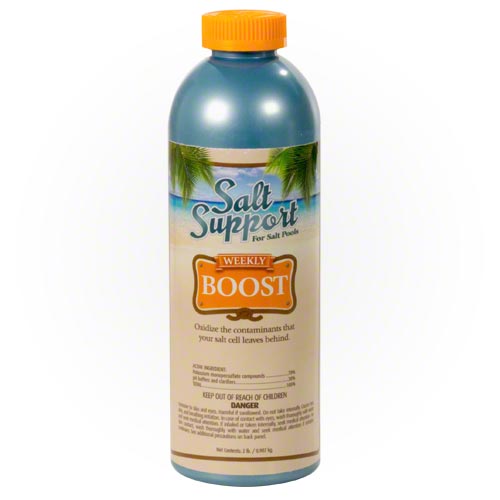 Salt Support Weekly Boost
This item is IN STOCK
This item is TEMPORARILY OUT OF STOCK
Usually Ships Within 1 Business Day
Expedited Shipping NOT Available
Not Available Outside Contiguous US
Item Details
Salt Support Weekly Boost
Pool water collects a variety of contaminants that are introduced into the pool from the environment and from the swimmers enjoying the water. Eventually those contaminants will start to cause cloudy water, strong odors, and other pool water issues. Weekly you should use the salt cells boost mode to eliminate these contaminants. Many people will use the salt cells boost mode to help eliminate these contaminants. Howevery, using that mode will wear out the cell faster, deliver additional chlorine which can be irritable to bathers at those levels, and may not effectively remove the contaminants.
This product is a non-chlorine oxygen based additive that provides useful oxidation to effectively remove contaminants from the water. Regular use will add clarity to the water, while keepying pH and alkalinity at more consistent levels.
Weekly Boost Features:
Removes pool water contaminants
Non-chlorine oxygen based formula
Oxidizes the contaminants that your salt cell leaves behind
Helps clear cloudy water and reduce odors
2 Pound bottle
Ingredients:
Potassium monopersulfate compounds 70%
pH buffers and clariers 30%
Dosage Amounts:
Initial Treatment - Add 2 pound of this product per 10,00 gallons of pool water.
Maintenance Treatment = Add 1 pound of this product per 10,000 gallons of water each week.