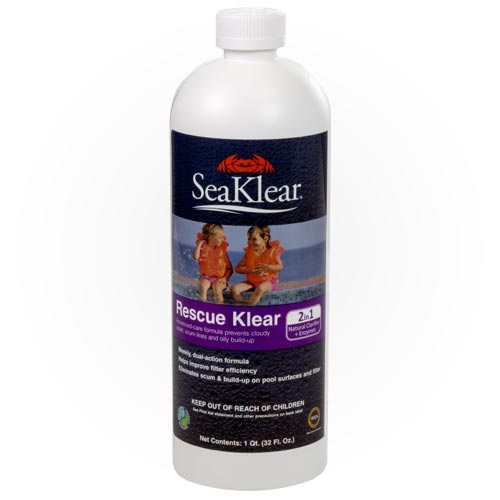 This item is IN STOCK
This item is TEMPORARILY OUT OF STOCK
Usually Ships Within 1 Business Day
Expedited Shipping NOT Available
Not Available Outside Contiguous US
Item Details
SeaKlear Rescue Klear
When your pool needs to be rescued, there is not better solution than Rescue Klear. It blends powerful enzymes and a natural clarifier to quickly and effectively clean up oils from bathers and vandalism, as well as dead algae. Suntan oils and lotions can cause build-up on the water line or in the filter media. Rescue Klear tackles the problem using enzymes to naturally degrade the oils and lotions coupled with our proven highly effective naturally clarifying polymers to clear the water and allow the filter to remove the pollutants efficiently.
Features:
Advanced-care formula prevents cloudy water, scum lines and oily build-up
Weekly, dual-action formula
Helps improve filter efficiency
Eliminates scum and build-up on pool surfaces and filter
Natural clarifier + enzymes
32 Ounce bottle
Dosage Amounts:
Add weekly at a rate of just 2 ounces per 10,000 gallons of water. Double or triple doses can be used if needed.