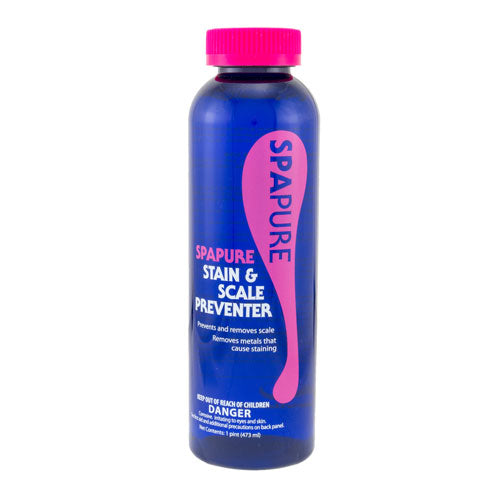 Spa Pure Stain & Scale Preventer 16 oz
This item is IN STOCK
This item is TEMPORARILY OUT OF STOCK
Usually Ships Within 1 Business Day
Expedited Shipping Available
Item Details
Spa Pure Stain and Scale Preventer

Stain and Scale Preventer is a fast-working sequesterant that prevents and eliminates scale and mineral deposits that can build up on hot tub surfaces. It softens hard water and helps prevent mineral staining caused by copper, iron and other minerals.

With Spa Pure Stain and Scale Preventer it only takes one product to prevent staining and mineral buildup which can take multiple products with other brands. Regular use of this product will keep the spa surfaces and plumbing in excellent condition.

Features:
Effective stain and scale control for hot tubs
Prevents scale buildup and staining
Prevents calcium build-up on spa surfaces
Highly potent formula
Compatible with most sanitizing systems
Size:
Dosage:
This product should be added when the spa is initially filled and on a weekly basis to prevent stains and scale build up.
Filling Spa: Add 2 to 3 ounces of this product for every 100 gallons of water.
Weekly: Add 1 ounce per 100 gallons to the water weekly to prevent stains and scale build up.
Spa Pure Stain and Scale Preventer