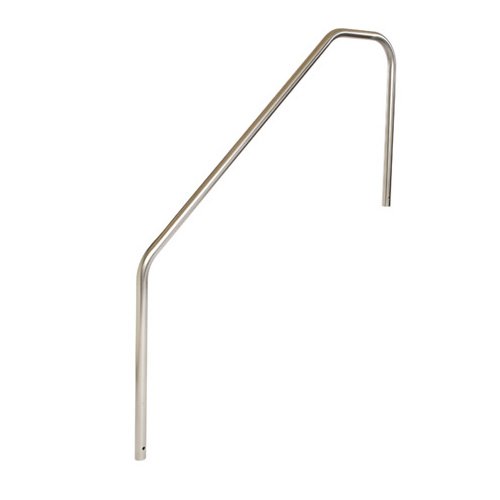 S.R. Smith 7' 3-Bend Handrail 3HR-7-065
This item is IN STOCK
This item is TEMPORARILY OUT OF STOCK
Usually Ships Within 1 to 3 Business Days
Expedited Shipping NOT Available
Not Available Outside Contiguous US
Item Details
S.R. Smith 7' 3-Bend Handrail 3HR-7-065
The 3-Bend Handrail is a stable safety-rail that is suitable for concrete, shotcrete, fiberglass, and vinyl pools. It is at standard height and runs parallel to the slope of the stair set. These rails are made with polished type 304 stainless steel. When the handrail is properly anchored it can be used for pools, spas, inclined slopes and stair-sets. The bends on this handrail are at a nominal 6" radius. For installment you will drill below deck level and anchor the rail with reinforced rods. For installment you will use the escutcheon and the anchor assembly.
3-Bend Handrail Features:
Handrail for Pools, Spas, Slopes and Stair-sets
Suitable for Concrete, Shotcrete, Fiberglass, and Vinyl Pools
Runs Parallel to Slope of Stair-set with Flat Start that is Parallel to Top Step
Type 304 Stainless Steel
Recommended Anchor: AS-100B (Order Separately)
Recommended Escutcheon: EP-100F (Order Separately)
3-Bend Handrail Specifications:
Length: 7'
Flat Part of Rail (Parallel to Top Step): 40"
Bottom to Top Rail Height: 66"
Bottom Step to Top Step Height: 36"
Extended Front Leg Extra Length: No
Bends: 3
Bend Radius: 6"
Tubing: 1.9" O.D.
Rail Wall Thickness: 0.065"
S.R. Smith 3HR-7-065