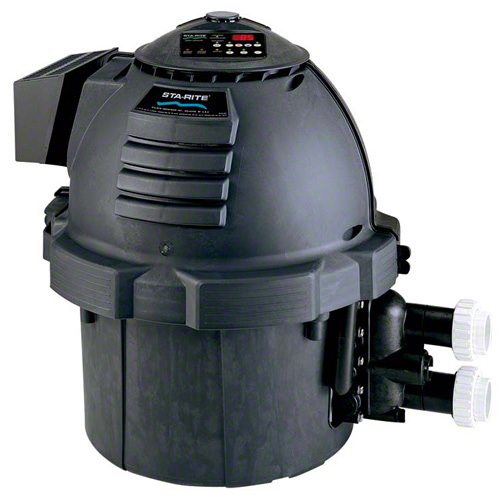 Sta-Rite Max-E-Therm 400,000 BTU Heater 460763 - ASME
This item is IN STOCK
This item is TEMPORARILY OUT OF STOCK
Usually Ships Within 1 Business Day
Expedited Shipping NOT Available
Not Available Outside Contiguous US
Local purchase only (Ogden, UT or Las Vegas, NV)
This item is IN STOCK
This item is TEMPORARILY OUT OF STOCK
Pickup or Local Delivery Only
This product cannot be shipped. If you live within our local delivery range, you can choose to have the product delivered to your door, or you can pick it up in store. See below for our location information.
---
Ogden
Sunplay - Ogden
1075 S Depot Drive
Suite 1
Ogden, UT 84404
Store hours:
9am - 5pm, M-F
Item Details
Sta-Rite Max-E-Therm ASME Heater 460763
Sure, a beautiful pool looks inviting, but its cold water can keep you high and dry. Which is why it pays to have a Sta-Rite Max-E-Therm High Performance Heater. After all, when the water's just right, you maximize the enjoyment of your pool experience. The fast-heating Max-E-Therm makes your pool irresistible on cool nights. It also allows you to extend your pool season. The ASME Certified Sta-Rite heater is designed specifically for commercial properties such as apartments, condos, hotels, motels, schools, parks, community and high-end private pools.
Unlike other heaters, Max-E-Therm offers you the latest advances from Sta-Rite: a rustproof exterior, smart electronics and increased energy efficiency. Whether you're looking for quiet relaxation or wild fun, you'll always enjoy your pool in the warm comfort of Max-E-Therm.
For indoor or outdoor installations on pools and spas. Features include an LED temperature readout with dual thermostat controls, temperature safety lockout, and 6-position control panel. PMG burner technology requires no outdoor draft hood. Proven Dura-Glas rust-proof construction with plastic manifold and PVC union connections.
Max-E-Therm ASME Heater Features:
•400,000 BTU Natural Gas Heater
High efficiency rating makes the Max-E-Therm extremely economical to operate.
Specially designed fueling and ignition process permits faster warming of your pool and spa.
Easy-to-read, conveniently positioned control panel is simple to program.
Top-mounted control panel has large format digital display and 360 degree rotation in any direction for easy viewing.
Control panel indicator lights pinpoint heater or system conditions, which can save money through faster troubleshooting (if required).
Certified for low NOx emissions and outperforms industry standards for air pollution exhaust.
Heater enclosure is made of Dura-Glas—an exclusive Sta-Rite thermoplastic resin that handles the heat and weathers the elements.
Lightweight - Lightest heater in its class Best in class energy efficiency.
Compact Design - Ideal for retro-fit installations.
Easy to Switch - Change gas sources with installation of separate orifice.
Lower Operating Costs - 84% efficiency rating - rated first in its class for highest energy efficiency.
Custom or Retrofit - Direct-connects to Sta-Rite System:3 Mod Media filter or easily fits other systems.
ASME Certified Commercial Pool Heater
Sta-Rite 460763