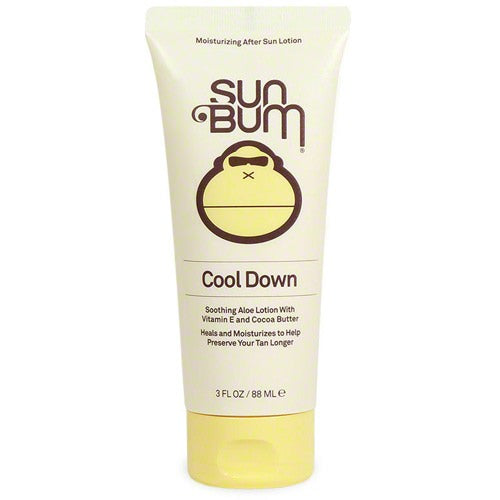 Sun Bum Cool Down Lotion - Aloe Lotion
This item is IN STOCK
This item is TEMPORARILY OUT OF STOCK
Usually Ships Within 1 Business Day
Expedited Shipping Available
Item Details
Sun Bum Cool Down Lotion


After a long lazy day in the sun, your skin needs revitalization and hydration. Sun Bum's 'Cool Down' Lotion is enriched with soothing Aloe and Vitamin E, providing an intense hydration to gently restore the skin's natural moisture balance. The light, non-greasy formula is quickly absorbed, leaving the skin smooth and soft.

Cool Down Lotion Features:
Heals and moisturizes to help preserve your tan longer
Restores and protects sun damaged skin
Prevents peeling for a longer lasting tan
Contains soothing Cocoa Butter
Contains cooling Aloe
Vitamin E Enriched
Alcohol Free
3 Ounce, Travel Size Tube
Aloe is commonly known for its healing and soothing qualities for the skin. Combining that with the natural antioxidants of Vitamin E, this cooling lotion helps to restore and protect your skin cells after exposure to the sun and all other outdoor elements. With regular use it also moisturizes and helps maintain your tan longer. Use this product to provide relief from:
Sunburns
Chafing
Skin Peeling
Windburns
Itchiness
Dry and dehydrated skin
Directions for use:
Apply generously to all areas of the skin. Gently massage into any affected areas. For best results, apply right after the sun burn occurs and before sun exposure. Reapply as frequently as you like.

Sun Bum Cool Down Lotion is carefully formulated to protected those of us who live and love in the sun.