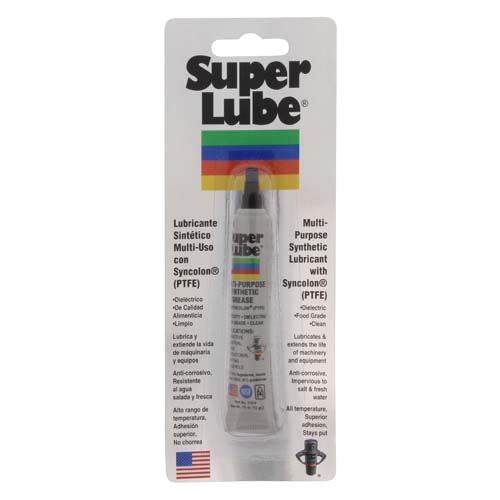 Super Lube Multi-Purpose Synthetic Grease
- 1/2 oz
This item is IN STOCK
This item is TEMPORARILY OUT OF STOCK
Expedited Shipping NOT Available
Not Available Outside Contiguous US
Item Details
Super Lube Multi-Purpose Synthetic Grease
Super Lube Grease is a patented synthetic heavy-duty, multi-purpose lubricant with syncolon (PTFE). Synthetic base fluids and the addition of Syncolon (PTFE) micro powders combine to form a premium lubricant that provides longer life protection against friction, wear, rust and corrosion.
Features:
Multi-Purpose Synthetic Lubricant with Syncolon (PTFE)
Excellent for pool and spa applications
Can be used on everything that slides, rolls, swivels or squeaks
Lubricates and extends the life of o-rings, bearings and equipment
Anti-corrosive, impervious to salt and fresh water
All temperature (From -45 degree to 450 degrees)
Will not drip, run or evaporate
Excellent water resistance and rust inhibiting properties
Environmentally friendly and biodegradable
Outlasts conventional greases 3 to 4 times
Super adhesion stays put
NSF Refistered
Applications:
Pool and Spa: O-rings, valves, bearings, etc.
Industrial: Bearings, conveyors, chains, open gears

, etc.

Automotive: Calipers, chassis, dielectric, door hinges, linkages, trunk, latches, power antennas

, etc.

Marine: Snaps, zippers, rollers, anti-corrosion, sail tracks

, etc.

Household: Windows, locks, garage doors, tools, toys

, etc.

Recreational: Fishing, bicycles, RVs, roller blades, hunting, etc.