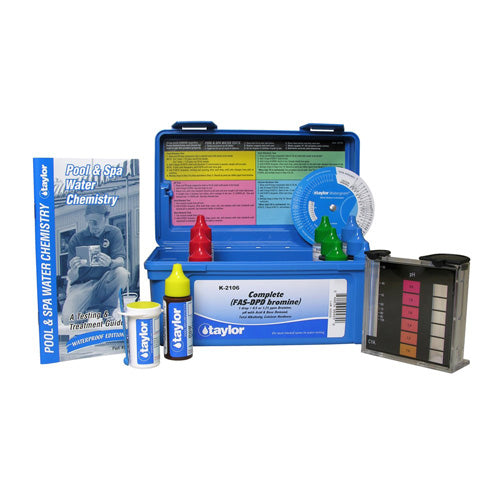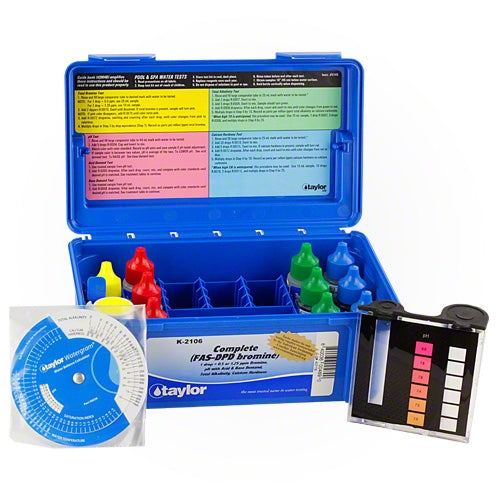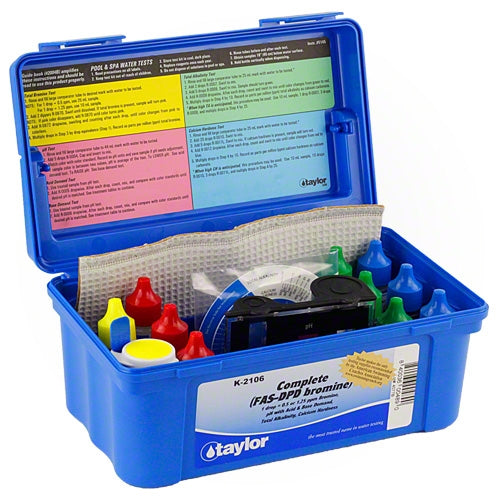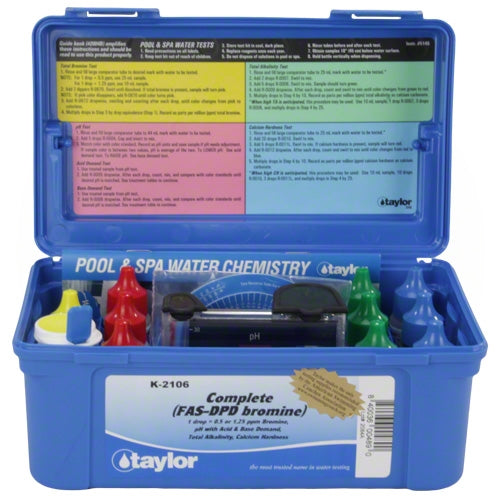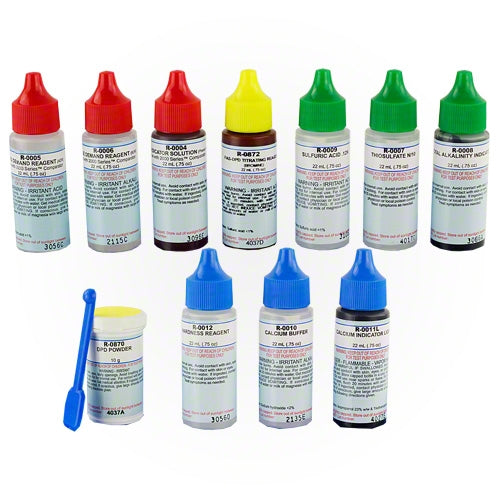 Taylor Complete Bromine FAS-DPD Test Kit - High Range K-2106
This item is IN STOCK
This item is TEMPORARILY OUT OF STOCK
Usually Ships Within 1 Business Day
Expedited Shipping Available
Item Details
Taylor K-2106 Complete Bromine FAS-DPD Test Kit
A complete Bromine FAS-DPD test kit designed for home owners, pool / spa service people, commercial pool / hot tub operators and health dept officials interested in economy & portability. Uses 3/4 oz reagents. Includes printed color comparator, waterproof instructions, treatment charts and chemistry guide. Simple, Accurate and Easy to use pool and spa complete test kit.
The benefits of Taylor's FAS-DPD test kit include:
Bromine can be tested at increments as low as 0.5 ppm
The distinct change from a vibrant pink to no color at all eliminates the need for color matching.
Supplement this test kit with the Deox Reagent (R-0867) when testing chlorine in the presence of monopersulfate shocks or interference will cause a false-high combined chlorine reading.
Taylor K-2106 Test Kit tests your hot tub or pool water for:
Bromine 1 drop = 0.5 or 1.25 ppm bromine (as BR2)
Alkalinity 1 drop = 10 ppm CaCO3
PH-w/ acid/base demand 7.0, 7.2, 7.4, 7.6, 7.8, 8.0
Hardness 1 drop = 10 ppm CaCO3
What is the difference between OT and DPD?
Unlike OT, the DPD Method will distinguish between free available chlorine and total chlorine.
Uses Taylor 3/4 Oz Reagents:
R-0003
R-0004
R-0005
R-0006
R-0007
R-0008
R-0009
R-0010
R-0011L
R-0012
R-0870
R-0872
Maintaining safe pool/spa water for the public is an important responsibility. Therefore, precise test results are essential when checking the water quality of commercial pools and spas. Taylor's k-2106 is designed for the kind of comprehensive, routine testing performed by service technicians, public and semi-public pool / hot tub operators, and other professionals. Taylor's 2000 Series uses printed color standards to achieve a reliable and accurate color match, making frequent test comparisons even easier.
Taylor K-2106