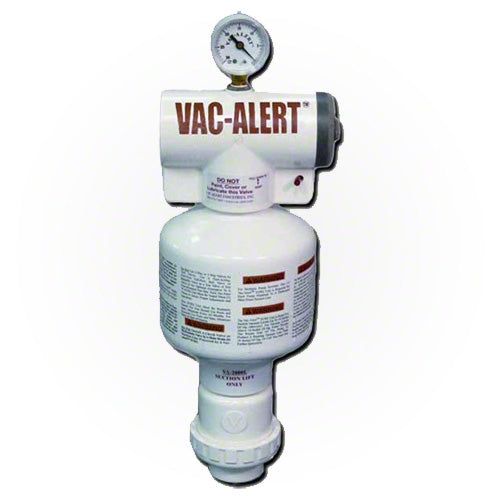 Vac-Alert SVRS System VA-2000S - Submerged
This item is IN STOCK
This item is TEMPORARILY OUT OF STOCK
Usually Ships Within 1 Business Day
Expedited Shipping NOT Available
Not Available Outside Contiguous US
Item Details
Vac-Alert SVRS System VA-2000S - Submerged
This safety vacuum release system (SVRS) is a self-monitoring, non-electrical, low-maintenance safety system that responds in milliseconds to an increase in pump suction vacuum that can be caused when someone is trapped by a high powered suction pump underneath the water. The systems spring loaded piston reacts quickly - opening to atmosphere and releasing the life threatening system suction.
A piston located in the housing of the unit will react to an approximate five inch spike increase in vacuum suction. Piston activation introduces air into the suction line and instantly decreases the pump suction rate and releases vacuum flow significantly. Once the vacuum does not have full power suction running through it, Vac-Alert has done its job and the entrapped being can be released from the suction.
When properly installed Vac-Alert will not affect operating water flow. Water never enters the unit itself, therefore your pump system will not be negatively affected. It will not harm your pump when tripped.
This safety measure will prevent entrapment and meets or exceeds all new state codes regarding entrapment protection. Some states in the U.S. are recommending or requiring this unit to be installed on pumps at the public pools in their area. This product does meet all the standards of the International Code Council, the International Building Code - IBC, and the International Residential Code - IRC. This device is tested to meet the performance requirements complying with ASME/ANSI state codes.
Vac-Alert is easily installed and adjusted within thirty minutes. It is vertically mounted into the suction line between the main drain outlet and the pool pump. A detailed installation DVD and field guide is included with every purchase. This long lasting design features moisture resistant PVC, and is constructed of stainless steel.
It is recommended to have a pool professional help with the installation of this device. Once it is up and running, everyone will have peace of mind and a sense of security. Now your family and friends are protected by Vac-Alert, a highly trusted, safety system regarding entrapment by pool suction pumps.
Vac-Alert Submerged Features
Safety Vacuum Release System
Designed for submerged suction applications.
For applications that have circulating pump suction below the water surface.
"Tee's" into the suction line between main drain outlet and pool pump.
Responds to five inch spike increase in vacuum suction.
Pushes air into the piping system and dissipates suction.
Calms suction flow and releases the person that's entrapped.
Does not damage pump when the alert is activated.
Is approved by state codes regarding entrapment protection.
Easy installation within 30 minutes!
Installation DVD and field guide is included.
Moisture resistant PVC.
Durable, stainless steel construction ensures long life.
Recommended to have SVRS on each drain pump.
Now family and friends are protected!
Product Notes:

Vac-Alert Systems require regular testing to ensure they are set to the correct suction levels up to 15 inches of Hg (mercury). If testing indicates there is a problem with the suction levels than you will need to make the necessary adjustments to ensure it operating properly.
Check valves and obstructions located between the main drain(s)and the Vac-Alert SVRS must be removed from the suction system. Do not install (must be removed from existing system s) a check valve in a main drain line between the main drain(s) and the SVRS.
Unlike many electronic SVRS Systems, Vac-Alerts must be manually reset when activated or tested before your system can resume normal operation.
Vac-Alert VA-2000S