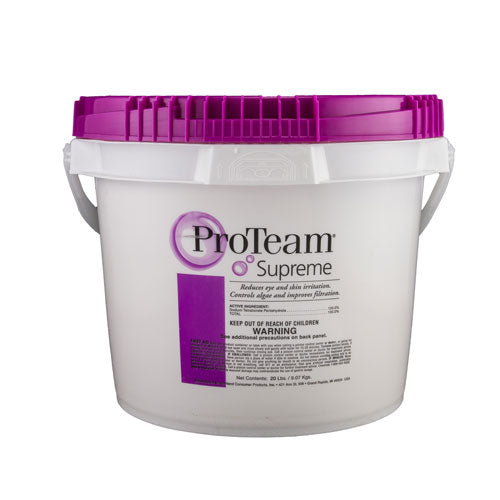 ProTeam Supreme - 20 Pounds
This item is IN STOCK
This item is TEMPORARILY OUT OF STOCK
Expedited Shipping NOT Available
Not Available Outside Contiguous US
Item Details
ProTeam Supreme
ProTeam Supreme is specially formulated to enhance water quality by improving filtration and controlling algae. Use of this product promotes sparkling, clear water and reduces eye and skin irritation for swimmers.
Supreme provides long-lasting algae suppression, controlling all types of algae found in swimming pools, as well as aiding in the removal of existing algae stains.
Features:
Improves the feel of pool water
Reduces eye and skin irritation
Controls algae and improves filtration
Size:
Ingredients:
Sodium Tetraborate Pentahydrate 100%
Directions for use:
For initial application, introduce two pounds of ProTeam Supreme for each one thousand gallons of pool water by broadcasting the material over the surface area of the pool with a pump running. This initial treatment must be added in two doses with one half of the necessary amount being added in each application. For initial pH adjustment use 3/4 pounds of ProTeam pH Down or 10 ounces of muriatic acid for each pound of ProTeam Supreme, mixing acid in a bucket of water, then add to pool.
The pH of the pool water may rise as a normal reaction to the introduction of this product into the pool water. After a normal turnover of pool water adjust the pH to 7.4 to 7.6 using a reliable acid demand kit. ProTeam Supreme is compatible with all material normally used in swimming pool maintenance.
Test the pool water a minimum once a week or as normally required by local health authority regulations. Sanitizer levels need to be maintained at levels indicated on the sanitizer label. The ProTeam Supreme residual must be tested at least once per month and must be maintained at 30 to 50 ppm. Your proteam dealer can provide this test and water analysis or you can also purchase use a test kit.
ProTeam Supreme is lost from water only through filter backwash and splash-out.